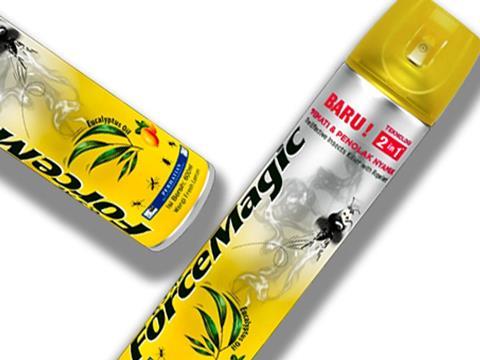 A new holographic shrink sleeve has won the 'Best Applied Decorative/Packaging Product' category at the international Excellence in Holography Awards 2019.
PT Pura Barutama's Force Magic product features a hologram and PVC (polyvinyl chloride) shrink sleeve, which combine to create a stand-out design as part of a new sleeve wrap for Enesis Group's Force Magic insecticide aerosol. The application impressed the judges because, as they argued, it sees the best in holography and PVC join to create a packaging solution without the requirements for any new treatment methods or additional processes.
Organised by industry trade body International Hologram Manufacturers Association (IHMA), the Excellence in Holography Awards 2019 were presented as part of the Holography Conference, which took place in Athens, Greece from 14 - 15 November.
They recognise outstanding achievement, marking success for those at the forefront of the sector, reflecting innovative or commercially viable hologram products or techniques introduced or launched during the last 12 months.
Attended by hologram suppliers, manufacturers and users from around the world, the event saw Dr. Paul Dunn, chair of the IHMA, commend the standard of entries as extremely high, adding further to an industry that continues to innovate, evolve and find new markets.
"This award marks ongoing advancement in the design, development, and technology of commercial holograms, which continue to find ever fresh and innovative ways to add value and appeal to products used by billions of consumers the world over."