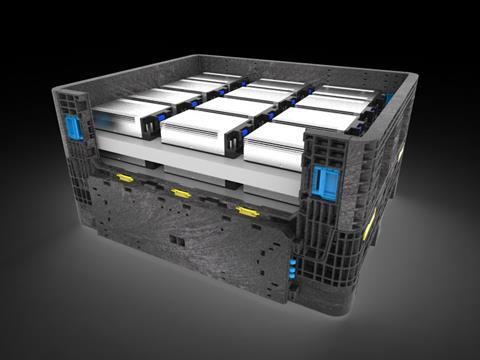 As car makers continue to launch electric vehicles, the need to protect batteries is a growing focus for automotive packaging. ORBIS has introduced a new collapsible FLC system which addresses specific requirements related to shipping and protecting 48V lithium ion batteries for today's electric vehicles.
Designed for re-use, this 1000mm x 1200mm x 462mm FLC is combined with customised dunnage to hold batteries horizontally in place during shipment. With this bin, shock absorbing dunnage is layered to provide part protection in transit. To create line-side efficiency, the design also allows for the proper battery orientation when shipments arrive at the assembly line.
Once batteries are removed at the assembly line, two unit loads can fit together and packed into one FLC, to reduce return shipping by 50%. The second FLC can be collapsed for return shipment. The top and bottom cushion layers are rotated 180◦ to fit together to minimize overall height. Additional benefits include generous access door opening for part loading and unloading, covers that protect batteries from dust and debris and provide secure bin stacking, smooth interior FLC walls provide part protection and ease of dunnage handling, optimised bin height for battery shipments. An all-plastic design reduces part damage]
Latches are rugged and allow users to easy open access doors and assemble and collapse. This bin, part of ORBIS' suite of FLCs, is designed for lower maintenance and is fully field repair­able without tools for all major components. At the end of its service life, it can be recycled into other useful products.
ORBIS® Europe will be sharing its solutions to help create more efficient logistics and supply chain operations at FachPack 2018 at Stand 6-363.