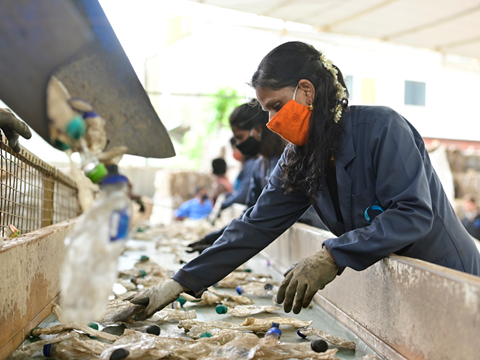 Plastics For Change, which developed the world's first fairtrade verified recycled plastic supply chain, has been announced as the winner of the Climate Change category of the Global Maker Challenge by the Mohammed bin Rashid Initiative for Global Prosperity. The Climate Change challenge looked at solutions that would facilitate a low-carbon circular economy through smart use of existing resources.
Plastics For Change has a two-fold mission of helping brands transition from virgin plastic to recycled plastic through their fair trade supply chains while also uplifting waste-pickers in informal waste economies out of poverty by offering fair predictable prices for the ocean-bound plastic they collect. The platform 'builds transparency and accountability' through its supply chain enabling brands to take responsibility for the materials they produce while also transitioning towards the circular economy.
An online open-innovation platform, the 'Global Maker Challenge' offered 'makers' and innovators the opportunity to collaborate and solve real issues that are affecting people across the world. In partnership with 10 UN agencies, four critical and urgent global issues were identified that became four themed challenges: Innovation for Peace and Justice, Sustainable and Healthy Food for All, Innovation for Inclusive Trade and Climate Change. These received more than 3400 entries from 148 countries and witnessed more than 6,800 social impact enthusiasts from across the world take part in the events of the #Make4ProsperityWeek.
The winners of the challenge were selected after a period of evaluation led by the Massachusetts Institute of Technology's SOLVE initiative (MIT SOLVE) and a jury of 47 globally renowned subject matter and innovation experts. The winners of the other categories were the Simbi Foundation, ColdHubs and POKET.
With plastic production expected to rise by 40% in the next decade and COVID-19 only worsening the waste crisis, Plastics For Change is surging ahead in its mission of enabling brands to source high quality recycled plastic and develop the circular economy. Having already partnered with global beauty brand, The Body Shop, Plastics For Change hopes to help many more global brands with their recycling commitments.
It plans to use the award to expand its platform and create ethical and sustainable supply chains that recycle ocean bound plastic - developing informal waste economies in coastal communities across India and South Asia in the process. Plastics For Change also has a foundation that works and invests in holistic social community interventions for the waste picker communities across these regions, that help in pulling them out of poverty.
Andrew Almack, CEO/Founder - Plastics For Change, said: "We're honoured to have been chosen as one of the winners of the Global Maker Challenge. Our actions this decade will determine the future of the planet and we look forward to using this award to push towards the growth of the plastics circular economy and see real development in informal waste economies across South Asia."