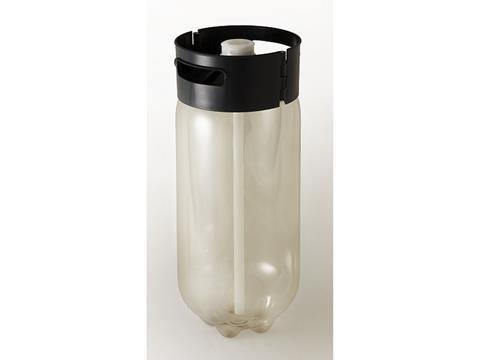 Following the announcement of the partnership between Petainer, KHS Japan and Mitsubishi Chemical to bring one-way PET kegs to the Japanese beer market, the unique new DLC keg, 10 and 20L, has now been launched in the market. The keg will be on show at this year's Brau Beviale in Germany - Hall 4 / 4-137.
The collaboration developed the new DLC keg to be the most environmentally-friendly yet, specifically designed to meet the strict recycling requirements in Japan, while delivering to the high quality and market standards. Mitsubishi's DLC barrier technology has been combined with Petainer's patented keg technology to create the 'DLC Keg'. Mitsubishi have built on their existing DLC product ranges provided to the alcoholic drinks industry, including global brands such as Kirin. The DLC technology provides a clear barrier supporting CO2 retention while blocking O2 entry. Through the partnership with Mitsubishi, Petainer is able to offer the only PETkeg approved for recycling in Japan.
Commenting on the collaboration, Hugh Ross, Group Chief Executive of Petainer said: "This is a unique partnership to develop a unique product – one which sets new standards for recyclability. It underlines Petainer's commitment to innovations, which continuously improve the environmental performance of our products."
DLC follows the launch of petainerKeg Hybrid, the first one-way PET keg to use a circular economy design, focused on recycling and reuse. Designed for drinks producers such as breweries and wineries as a more cost-effective and sustainable alternative to traditional stainless-steel kegs, the keg provides a low-cost way of entering new domestic and international markets.
Commitment to use of Post-Consumer Recyclate
Beyond the keg portfolio, Petainer is also one of the largest users of PCR in single use containers and leads the way in refillable bottles for the beverage industry. Its team of development, processing and quality experts have decades of experience in the technical processing requirements of refillables and the use of PCR, as well as end-product specifications for some of the largest global brands.
This expertise has helped the development of sustainable packaging with a high level of technical performance, combined with some of the highest PCR usages in the industry, producing bottles which use up to 100% recycled material.
Brau Beviale takes place from 13 – 15 November in Nuremberg, Germany.