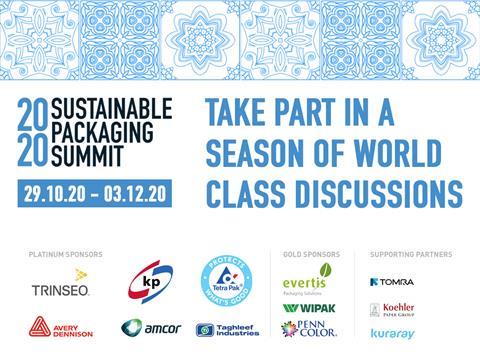 Join us from the 29th of October to the 3rd of December for an unmissable season of discussions, workshops, and networking sessions with leading experts from across the packaging value chain.
In order to get involved in the discussions and take a look at the full calendar of events, simply click here to register.
The Sustainable Packaging Summit has been designed to disrupt the familiar paradigms of industry events. It's a platform for meaningful and practical discussion that moves us forward on the key dilemmas, with a carefully crafted agenda focusing on how we progress collaboratively, not self-congratulation.
Along the way, we'll be taking a look at the most pressing issues in packaging sustainability; including reuse models, the circular economy, recycling, plastic waste, and regulation.
COVID-19 has compelled us to make the event virtual, which is running as a series of panels and workshops throughout the autumn of 2020.
Some of the leading names taking part in the summit include:
Nina Goodrich (Sustainable Packaging Coalition)
Tom Szaky (TerraCycle)
Gian De Belder (Procter & Gamble)
Archana Jagannathan (PepsiCo)
David Luttenberger (Mintel)
David Katz (Plastic Bank)
We're embracing the possibilities of a digital event to provide a larger, more global audience access to every live session, interaction with leading players and thinkers, and networking opportunities with fellow participants. And this year it's free for all qualifying professionals to take part.