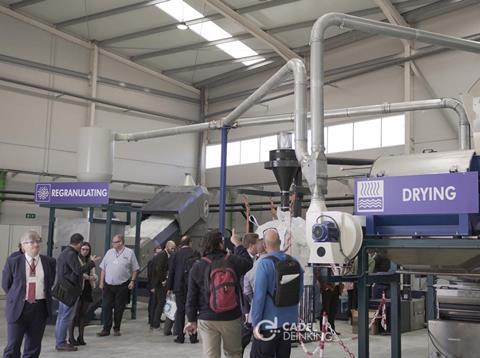 How has your technology been accepted by the industry?
We had an Open House, in collaboration with EREMA, in December 2018 at our facilities in San Vicente de Raspeig.
Almost all of our visitors agreed about the need to reuse plastics. Deinking is a great step in the right direction.
This event demonstrated the operation of a plant with a deinking capacity of 450 kg/hour, allowing visitors to understand the Deinking process.
When the plant started up, the visitors were able to witness the treatment of plastics on site, and observe the whole process, from the supply of scrap material at the beginning to the final production of deinked plastic pellets.
Speakers were invited to explain the concept of the Circular Economy and the practical applications of deinked plastic, and the event was illustrated with presentations from DowDuPont, Ceflex project, Impact Recycling and Repsol.
What are the main benefits and reasons to implement this process?
If the recycled plastics do not have any printing on them they have the same quality as deinked plastics. The advantage is that all the surface-printed plastics can also be recycled and achieve the same quality.
The deinked plastics can be used several times.
It also opens an opportunity to treat post-consumer plastics, as it can also eliminate odours.
What chemicals are potentially present in the plastic and what happens to these during the process and to the resulting sludge?
Deinking is a closed circuit. The pigments are taken out, so the same water can be used many times.
These pigments, normally less than one per cent of the total plastic content, must be collected, but it is not hazardous material.
What are the practical applications of deinked plastic? Is it food contact safe?
The deinked plastics can be used to make films, bags, containers or furniture, to name but a few options.
We have run several tests on food contact, with positive results: one test was run by EFSA, based on European norms, and the other was run by FDA, based on the relevant American rules.
Can it be implemented on a wide scale- and what are the next steps?
We have an industrial deinking plant in Alicante, and another plant is going to be set up by a client in Italy.
The next steps are to close contracts that are being negotiated and install more plants.