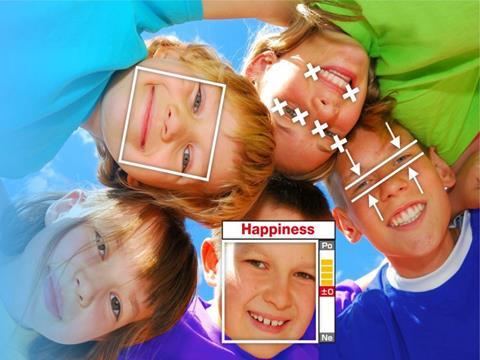 At the PPMA Show Omron has demonstrated its revolutionary new OKAO facial recognition and gesture control technology for machine access and control.
Visitors to Omron's stand, B34, have the opportunity to interact with an industrial robot using gesture control alone. The demonstration also previews the latest biometrics technology, with the OKAO system operating as a facial recognition system for access control and presenting a contextualised menu dependant on the authorised access level.
The demonstration consists of an Omron Quattro robot, controlled by the company's Sysmac software, linked through a database to the OKAO control platform. Launched last year, the Quattro Delta robot was the fastest Delta robot in the world at the time. The unique Quattro Delta robot has a fourth arm that allows a longer reach and a superior degree of manipulation than other Delta robots. Visitors to the Omron stand will be able to control the full range of the Quattro Delta's movement, including the robot's speed, height, position and gripper movement.
The exhibition demonstration is built on Omron's proven OKAO image sensing technology, which was originally developed for mobile platforms. The OKAO technology was specifically developed to offer accurate detection and recognition performance at high speed, making it the ideal platform for industrial use. OKAO is used by some of the largest companies in the world, and currently, over 500 million licenses have been granted.
As the industry moves towards the Industrial Internet of Things and automation penetrates further new areas, new methods of interacting with machinery are necessary. The industry will also require more reliable safety and security systems. Omron will demonstrate a proven, workable solution for these issues in a single platform. OKAO's gesture recognition system will allow operators to view the performance of a machine, and control its movement from a distance, providing accurate control and an extra layer of safety by taking the operative out of the machinery's operating field. The OKAO system will allow control over machinery in places where an HMI couldn't be installed or operated effectively.
For example, the system could be used in dangerous or hazardous environments, or in cleanrooms and food preparation areas where hygiene is a primary concern. It can also be easily used in cold areas where gloves are required, without a negative effect on control functions.
The OKAO facial recognition system is more secure than ID cards or codes that can be stolen or given to an unauthorised person. The software guarantees that the system is only accessible to the person present at the reader, and that person only has access to the parts of the system for which they are authorised. The technology can also provide ongoing checks on the operator to ensure that the same person is in control.
Dan Rossek, marketing manager at Omron commented: "the OKAO demonstration shows how Omron is harmonising interaction with machines. It also shows that technology in the industrial sector no longer lags far behind the consumer sector. Barely a week after Apple launched its new iPhone X that uses facial recognition for access control, Omron is showing the same advanced technology in an industrial context."The PPMA Show offers the perfect UK platform for Omron to demonstrate its lead in the field of control and automation. At the exhibition last year, the company launched its LD range of Autonomous Indoor Vehicles. This year, the company will showcase its lead in the field of harmonising human machine interaction, as well as its continuing lead in the robotics field with the Omron Quattro Parallel, which is certified by the USDA for primary food handling, taking robotics into applications that were historically unsuited for automation."
More info: