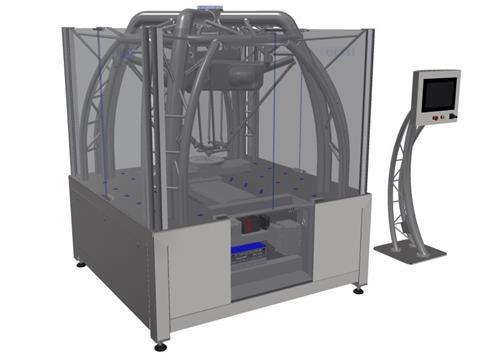 At this year's CFIA event in Rennes visitors will have the chance to interact with Omron's 'mini-factory', giving them a taste of how they can maximize productivity with the digital factory.
Omron will be at the CFIA event in Rennes, from 13-15 March, demonstrating how it can create smart production facilities that help solve the challenges faced by today's food and beverage industry. Omron's complete robotics and automation system delivers greater flexibility to deal with increasing SKU numbers, together with better data collection and reporting. The system on show at the Omron stand (Hall 2 Booth A4-B3) combines different applications and uses 'smart' data to deliver tailored production efficiency to meet actual demand.
At the Europack Euromanut exhibition in November 2017, Omron stole the show with its mini-factory demo, which incorporates the latest gesture control technology and facial recognition of operators for enhanced security. Visitors were able to alter system parameters and immediately see the effect on the demo's performance, slowing down or speeding up production. It shows clearly how a change in one place can affect other parts of the system.
At this year's exhibition, Omron will show how big data, the vast amounts of data collected by interlinked system, can provide insights into how to improve efficiency and uptime of a production line. The challenge is that there is so much data that we need intelligent systems to analyze the data and turn it into 'smart data' which is relevant to help overall system control. The smart display at the Omron booth shows how all the data can be processed to provide relevant information to operators and management in a clear and easy-to-understand interface.
Other products being displayed at the stand include Quattro with a high-speed vision system and the Sysmac Machine Controller. They are all connected via the cloud to deliver a complete, integrated, smart solution – an example of Omron's 'i-Automation' concept which aims to provide customers with intelligent, integrated, and interactive solutions that support and accelerate adoption of the digital factory.
The Quattro robot is a four-axis parallel robot that achieves high speed and high precision for pick-and-place applications. Combined with the vision system, it enables highly accurate pick-and-place control to deliver high speed action, even when moving delicate objects. In addition to speeding production and reducing energy usage the vision system also contributes to food insurance, ensuring affected batches only are pulled from production.
For the ultimate in flexible manufacturing, communication uses the IO-Link digital protocol. It allows the controller both to receive detailed performance information from sensors and actuators, and to transmit data to change component parameters.
"Our latest system solution helps the food and beverage industry reap the benefits of industry 4.0's digital factories," said Stéphane Chômienne, General Manager Omron. "Together with amazing production flexibility, the automation improves efficiency, lowers costs, maximizes safety, and promotes low maintenance to ensure maximum uptime. Furthermore, customers' brands are better protected through the highest quality production standards."
CFIA is the main food-process event in France and the event in Rennes will bring together 1,450 exhibitors offering Process, Packaging and Ingredients solutions.
More info: