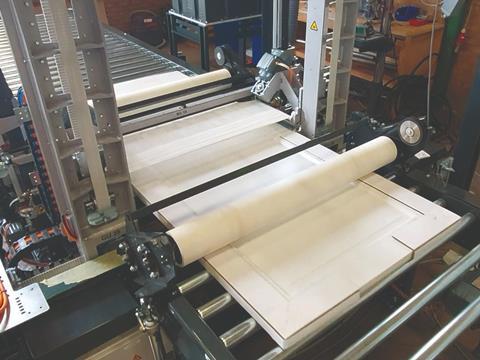 Tentoma's RoRo StretchPack line offers fully sealed six-sided door packaging, reportedly protection the appearance and value of doors before they reach end-users.
According to Tentoma, the new packaging solution has multiple functionalities, including lifting the door for the mounting of corner protection, centring the door on the infeed conveyor, measuring the size (width x height) of the door, and packing and sealing the door in one operation.
Using RoRo StretchPack, the door is packed in a tubular stretch film that provides six-sided packaging, reportedly with a short, 100% waterproof sealing in each end. This is intended to protect the doors against dirt and moisture during storage and transportation.
Tentoma says that the RoRo StretchPack technology is based on vertical stretch hood packaging, which has been developed to enable horizontal six-sided sealed packaging of large goods including doors and tabletops in a single operation.
In addition, the company claims that RoRo StretchPack is single-layer packaging, which gives a tight finish where the film fits close to the door. It adds that this reduces the amount of film consumption by around 25-60% compared with conventional packaging methods, such as orbital wrapping.
RoRo StretchPack is also a cold packaging process, which allegedly means that customers can remove heat shrink overs from the packaging line and thus reduce energy consumption. The new solution can perform with high repeatability and produce uniform packaging, making it suitable for printed branding, according to the company.
Jane Tønder, head of sales at Tentoma, comments: "We have seen more door manufacturers shifting to use RoRo StretchPack for packaging.
"That is the reason why we have developed this complete packaging line [for] the door manufacturing industry.
"It can be installed as a standalone solution or as an inline solution in a fully automated production line. The final configuration will of course always be based on customers' requirements."