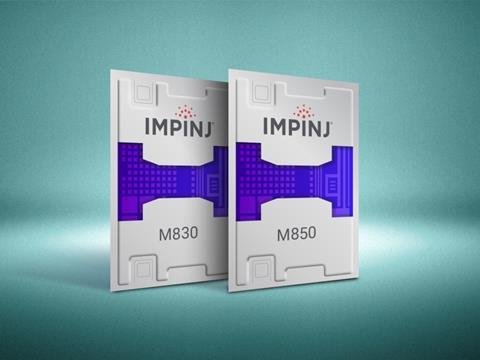 Impinj, the major manufacturer of radio-frequency identification (RFID) devices and software, has released the Impinj M800 series RAIN RFID tag chips to meet enterprise needs for item connectivity in global IoT deployments, it says. The AIPIA member claims the new chips offer unmatched and enhanced readability in enterprise deployments as well as ease of manufacturing. On the back of this launch, both Tageos and Beontag have launched new inlays containing the M800. As a pioneer of RAIN RFID technology, Impinj says it has now delivered more than 85 billion tags.
These new chips increase the speed, distance, and reliability at which a RAIN RFID system can discover, engage, and protect connected items, says the company. "Today, we have taken another big step toward our mission to connect everything," said Chris Diorio, Impinj co-founder and CEO. "Our new Impinj M800 series tag chips are the most advanced in the market, with performance and features designed to help enterprises read the right tag, at the right place, at the right time."
It claims these low power consumption tag chips allow unmatched readability so businesses can use a single, small tag across a broad range of items — apparel, shoes, home goods, and other general merchandise — within their global operations. The chips improve the performance of RAIN RFID deployments from retail to supply chain and logistics and beyond.
Advanced features include boosting the ability to mitigate tag clutter; the series helps readers inventory the right tags at the right time. They also include Impinj Protected Mode to protect consumer privacy while improving retail self-checkout and loss prevention. The series is drop-in compatible with Impinj M700 series antenna designs, enabling quick time to market.
Just one day after the release of the new Impinj M800 IC series, AIPIA member Tageos launched four new RAIN RFID inlays based on these high-performance chips: EOS-241 M830 and M850 as well as EOS-261 M830 and M850. Ideal, they say, for retail and other high-volume market segments, the new inlays combine further enhanced read performance with an ultra-small antenna size (42 x 16 mm) that is appropriate for item-level applications in retail and logistics. They are optimized for use on diverse packaging materials for a wide range of non-food applications, says the company.
"It's great to see Tageos, an Impinj Gold Partner, quickly industrializing the superior capabilities of our all-new Impinj M830 and M850 ICs and rapidly bringing compelling new RAIN RFID inlays and tags to the market," said Martin Liebl, senior product management director at Impinj.
"With our new EOS-241 and EOS-261 RAIN RFID inlays based on the new Impinj M800 IC series, we have demonstrated our ability to respond quickly to the latest technical developments and customer requirements. As an Impinj Gold Partner, we will continue developing new inlays to make the most of superior RF innovation performance and reduced carbon footprint," said Chris Reese, CTO at Tageos.
Meanwhile, Beontag has announced a range of tags that enhance RFID functionality, leveraging the new Impinj M800 series RAIN RFID tag chips. The Falcon M800, Pacer M800, Swift M800, and Setter M800 each achieve excellent performance while offering a specialized antenna design to meet the various needs of applications in both retail and industrial markets, they say. Beontag tags will leverage the new IC for lower power consumption and high performance and readability, making it easier to deploy reliable RFID systems.
"Beontag is always working to integrate and adopt innovation and problem-solving solutions for our customers around the world. The next-generation series RAIN RFID tag chips from Impinj is another step for even more enhanced privacy and reliability across our portfolio," says Marcio Muniz, digital transformation enabler vice president at Beontag.
This article was created in collaboration with AIPIA (the Active and Intelligent Packaging Industry Association). For a full update on active and intelligent packaging, come along to the AIPIA World Congress (co-organized by Packaging Europe) in Amsterdam on 14-15 November. The only smart packaging event covering the entire technology spectrum, the World Congress is a meeting place for the global active and intelligent packaging industry where brand owners, innovators, and other stakeholders can network and see and discuss the latest trends and innovations. Register to attend here.