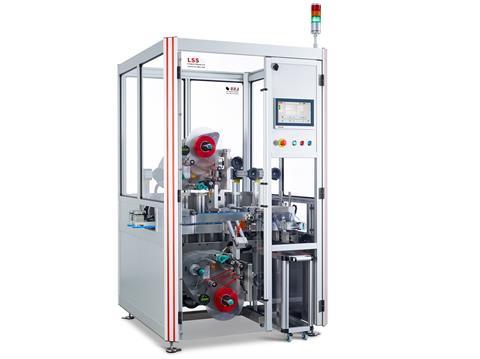 Flexible and easy to operate
The LSS Tamper Evident Labeller has a capacity of up to 300 cartons per minute. It provides tamper proof sealing of reverse tuck end and airplane closing cartons. The flexible machine handles cartons ranging from 50 to 220 mm in width, 15 to 120 mm in height and 40 to 120 mm in length. Both transparent and non-transparent labels can be applied. Due to its small foot-print, the new Tamper Evident Labeller is easy to fit into any production area, and can be used as an off-line or in-line unit. The user-friendly HMI makes the machine very easy to operate. The Tamper Evident Labeller is designed with focus on minimising the time spent on batch change and line clearance.
Safe synchronisation
When entering the LSS Tamper Evident Labeller, each carton's position and length is registered. The labeller can stop and restart the process at any position and still maintain a safe product register. Starting in early 2019, pharmaceutical serialisation will become a legal requirement for companies in the European Union. In the US, it has been compulsory since November 2017 under the United States Drug Supply Chain Security Act (DSCSA).
More info: