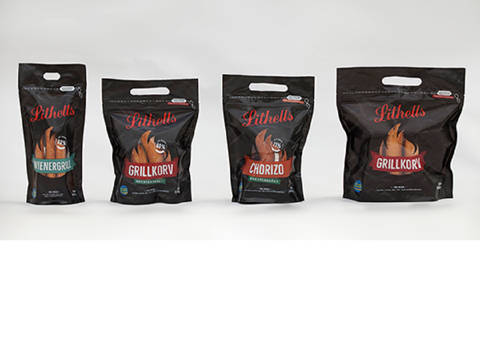 Many packaging solutions look alike and are often not possible to stand out on the shelf. This also goes for barbeque sausages, which are commonly marketed in flow packs.
However, the Lithells brand, deservedly known as Sweden's primary sausage expert, is now introducing a line of barbeque sausages in a new packaging solution from Schur®Star Systems. With this introduction the brand takes the decisive step out of anonymity. The new design ensures the attention that quality products deserve and makes the products stand out from the competition.
The packaging solution supports brand loyalty
The new line comprises four products marketed in Schur®Star Stand-up Bags. The bags are flexo-printed with a special paper-feel varnish giving a rustic paper bag effect; the print design communicates fire, charcoal and rich tasty products. The stand-up bags have a window allowing a glimpse of its fresh contents. This new exciting format exposes the products on the supermarket shelf and attracts customers in the crucial moment of purchase. With the carrier handle the consumer conveniently carries the products home or directly to the garden for a barbecue. A reclosable zipper is included to enhance freshness, increase shelf life and reduce waste - All are key elements that support brand loyalty.
Lithells is Sweden's primary sausage expert
The Lithells brand goes back to 1907, and in view of its history and its market position it deserves to be called Sweden's primary sausage expert. Produced in Sweden's largest sausage factory, the brand was in 1997 taken over by Atria but this never affected the superior quality nor the drive for innovation. The new line has been in the pipeline for quite some time; extensive tests were made in the controlled atmosphere filling process and have been adjusted to the perfect result. With the high meat contents, the excellent taste of the sausages, the improved shelf life, and the new Schur®Star Stand-up Bag design, Atria has high expectations for the new Lithells line. Recent feedback from retailers as well as consumers has been extremely positive.
The Schur®Star Concept makes everthing possible
With the Schur®Star Concept, Atria has a total solution with optimal flexibility and reduced complexity – in other words the widest possible range of options in terms of packaging design and product processing. The Schur®Star Concept consists of the Schur®Star Packaging Machine and premade Schur®Star Bags that are linked together on a string to ensure a smooth packing process. With a Schur®Star Packaging Machine changeover between different bag constructions and sizes is done quickly and simple. Likewise effortless is change-over between manual, semi- or fully automatic filling – dependent on type and complexity of the products. The machine can easily be integrated into an existing production line and combined with weighing, marking or product processing equipment, like e.g. gas flush.
More info: