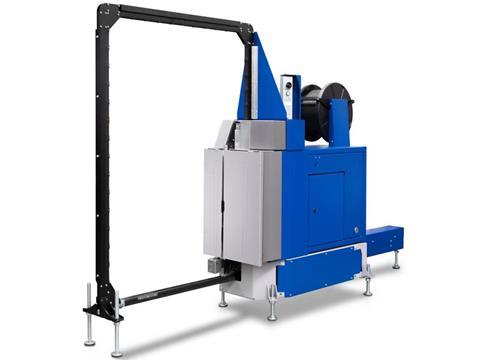 Celebrating its premiere at Stand 513 in Hall 4A, Mosca's compact EVOLUTION SoniXs MS-6 KR-ZV is designed for maximum efficiency and high performance – especially for strapping pallets with reduced strap tension.
The machine's "big sister," the KZV-111, is ideal for preparing shipments containing bulky and heavy goods on pallets. The EVOLUTION SoniXs MS-6-H shows how strapping technology can be integrated into Industry 4.0 set-ups. A network connection ensures that the machine can be checked and controlled at any time from any location.
The new EVOLUTION SoniXs MS-6 KR-ZV will be presented for the first time at FachPack 2018. The machine is specially designed for products with feet such as dollies, wire mesh containers or pallets requiring lower strap tension of max. 450 N. Due to the lower strap tension and force-limited traversing units, the machine, which is supplied CE-compliant from the factory, does not require a safety enclosure. This significantly lowers the purchase price. The operator is not required to leave the safety zone during machine operation and can feed packages faster. The EVOLUTION SoniXs MS-6 KR-ZV comes equipped with the patented Mosca SoniXs ultrasonic sealing unit that is positioned to the side of the product to be strapped. This ensures protection against contamination by falling particles or dripping liquids. It also allows a lower conveyor height enabling the machine to strap pallets on the ground. The movable sealing unit has a stroke of up to 340mm.
The "big sister" to the EVOLUTION SoniXs MS-6 KR-ZV, the KZV-111 is ideal for vertical strapping of bulky pallets. It also has a movable tongue that slides under the product. The sealing unit is positioned above the package on a sliding plate, which makes it easy to handle packages higher than 350mm. The KZV-111 can be integrated into existing production lines and guarantees seamless package processing.
High speed for bulky goods
The EVOLUTION SoniXs MS-6-H is the non-plus-ultra solution when it comes to fast horizontal strapping of bulky items like furniture or white goods. The machine triple straps up to 180 packages per hour, making it ideal for handling high-volume production runs. Heavy goods are best strapped horizontally, which is why the MS-6-H features a side sealing unit with a vertically sliding frame capable of safely strapping packages at up to ten different heights. The machine can be optionally equipped with a horizontal sealing unit to strap packages that are not optimally aligned. Setting the strapping position is easy: Either the operator selects a suitable program via touch panel or the EVOLUTION SoniXs MS-6-H uses sensors to determine product height and completes the strapping operation according to user-defined parameters.
Network solutions for Industry 4.0
Mosca engineered the fully automatic EVOLUTION SoniXs TR-6 Pro for integration into existing packaging lines. The high-performance machine straps up to 45 packages per minute and is best suited for tightly-scheduled logistics operations. The optional double strap dispenser reduces set-up time by automatically switching from an empty roll to a spare coil during operation. The EVOLUTION SoniXs TR-6 Pro bridges the gap between high-performance strapping technology and Industry 4.0 with a network interface that enables the user to check and regulate machine operation as needed at any time from any location.
The networking options are not limited to the machine itself. The model on display at FachPack 2018 features a strap coil with RFID tags. This enables the coil to transfer information to a company's enterprise resource planning system, determine stock levels, and autonomously place reorders. At the same time, employees can track automated processes via the ERP system.
No problem with complex products
The Mosca UCB is also network capable. The cross-strapping machine with aligning station offers corrugated board manufacturers plenty of flexibility. The UCB is ideal for non-standardized products which, unlike fully automated strapping machines, are fed manually. The standard four-sided product transport handles complex products, like four-point or six-point folding cartons. Manual operation is supported by automatic cycle rate adjustment (CRA), which adapts the machine speed to the operator's pace and thus protects machine components. The UCB is CE-compliant from the factory, which means that the user doesn't need an additional safety enclosure. The UCB is also optimally equipped for efficiency and performance. Standard features include a double strap dispenser and SoniXs ultrasonic sealing unit.
Proven machine quality, even for entry-level models
High-end technology is also available to customers interested in entry-level machines. The RO-M Fusion features a heat welding system with electronic temperature control and a coil change and threading system optimized for user-friendly operation. Thanks to the modular Mosca design, customers can choose from different frame sizes adapted to the size of their products. Dual foot switches and a flexible control panel ensure ergonomic operation.
The Mosca machine portfolio on display at FachPack 2018 is complemented by the company's ONE Service global service network along with information on strapping materials and ordering options.