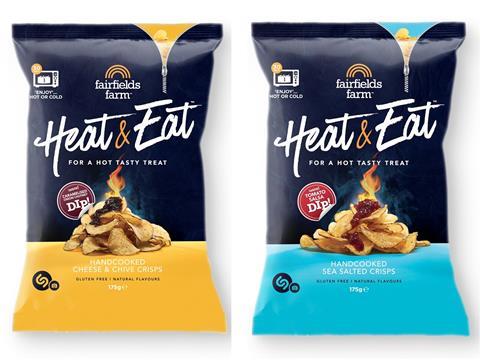 Artisan crisp firm, Fairfields Farm, has unveiled their most exciting snack concept to date; Heat & Eat™ the first ever microwaveable bag of crisps with dip.
Heat & Eat™ consists of a 125g bag of hand-cooked crisps and a 50g dip. Two flavours will be available; Sea Salted with Tomato Salsa Dip and Cheese & Chive with Caramelised Onion Dip.
Designed to revitalise the snacking market and give consumers a whole new eating experience, Heat & Eat™ breaks new boundaries not just in concept, but also in packaging and design using a patented pack which enables consumers to tear the bag open, remove the dip, microwave for 30 seconds and then enjoy delicious, hot fresh crisps, just as if they'd been handcooked at home.
Heat & Eat™ uses a revolutionary packaging, which can be torn open and heated in the microwave.
A laser-scored, easy-tear opening system also allows consumers to cleanly open the bag from top to bottom, meaning that the pack can be merchandised in the portrait position, but heated and stood horizontally to be easily shared.
"The hand-cooked snack market is now quite mature, with innovation centring around flavours, rather than concepts. That's why Heat & Eat™ is so exciting," explains Robert Strathern, founder of Fairfields Farm which has made a number of mechanical changes to its factory to be able to create Heat & Eat™. "It's been a long process, but a very exciting one and we're convinced we've come up with something that's not only unique, but that also creates a whole new snacking occasion and talking point."
To help deliver the concept of Heat & Eat™, Fairfields Farm has also linked up with Shazam. Customers can scan anywhere on the pack and be transported to a Heat & Eat™ portal which will include a video and information.