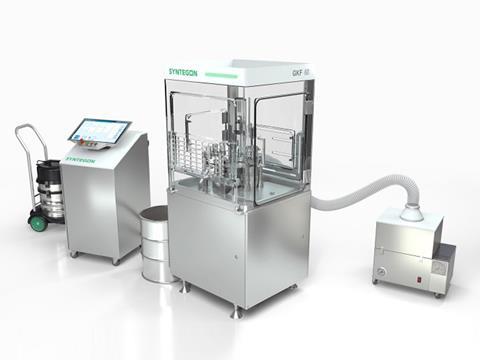 With the new GKF 60, Syntegon Technology hopes to set new standards in lab-scale capsule filling.
"Researching pharmacists and laboratories need to bring their new drugs to regulatory approval quickly and in a targeted manner. To do so, they need a mobile machine that enables the development of new formulations with a wide variety of dosing systems ‒ flexibly and at different OEB levels," says Matthias Mössinger, senior market expert for pharma solids at Syntegon.
"But that's not enough: the systems used should also be easy to scale up to production. This is exactly what Syntegon has developed the GKF 60 for."
Above all, the company says that GKF 60 impresses with high flexibility and low space requirements. With only six stations, the machine is compact and reportedly requires significantly fewer format parts.
"Nevertheless, a total of three filling stations can be integrated in parallel. Customers can choose from numerous options ‒ from the newly developed piezo dosing to the familiar dosing modules for dry powder inhalation (DPI), pellets, tablets, or liquids, to the mini-bowl station for a scale-up to the next larger production machine," Mössinger says.
Especially with very high-priced active ingredients, it is important to fill small quantities flexibly and, if possible, without product loss. Syntegon says that the piezo station of the GKF 60 makes this possible even for very small quantities starting at 0.1-milligram filling weight, for example for toxicity or FIM (First In Man) studies.
The new Automated Process Development (APD) tool developed by Syntegon is also available for the GKF 60 to determine the optimum parameters for filling and automatically adjust them during the filling process. In addition, each dosing station can be optionally equipped with a gravimetric 100% weighing system for each component dosed.
"These and many other options, such as cameras and sensors, enable the GKF 60 to provide the necessary quality control during the ongoing process and ensure the highest product quality," argues Mössinger.
The separate control cabinet with an integrated operator interface and dashboard apparently provides further space savings. And, since the GKF 60 is also compatible with the GKF 720, Syntegon's smallest production-scale capsule filling machine, Syntegon says that there is nothing to stop the scale-up of newly developed formulations.