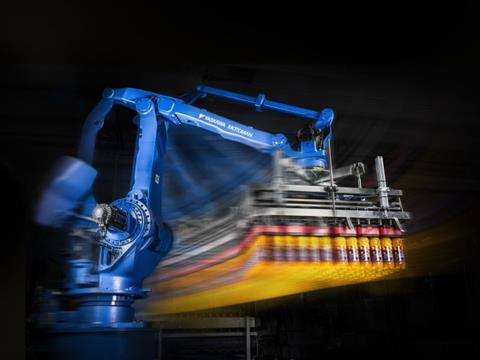 Air Grip® is a patented, highly efficient, safe and flexible bottle gripping system which has been developed by YASKAWA for use with MOTOMAN® robots to meet the demands for today's bottling plants.
The unique combination of state-of-the-art industrial robots equipped with innovative robust rubber grippers ensures safe handling of bottles at very high speeds without damaging the screw caps.
The AirGrip gripper tool meets the increasing demand for a flexible application in bottling plants where the same basic concept can be used for both small and large applications and for a wide variety of purposes. The bottles are lifted by compressed air with minimal mechanical stress which helps to reduce maintenance requirements. Also, because the cuffs are open at the top there is no restriction in bottle height. The cuffs are available in 5 standard sizes which cover most popular bottle sizes from 0.5, 1.0, 1.5 and 2.0 litres while customised designs are also possible.
In one bottling application for a major soft drink manufacturer 1.5 litre PET bottles are being handled at a rate of 47,000 bottles per hour. Other sites where the system has improved the efficiency of the bottling process include a number of major European breweries in Sweden and Norway.AirGrip is available as a basic model in which the rubber gripping cuffs can be replaced when worn by simply unlocking and pulling out the gripping head compartment without the need for special tools.
The technology can be adapted to meet the requirements of individual production lines, speeds and product development. This enables production to be more easily adjusted to meet the varying demands of the market whilst ensuring that high standards of reliability are met.
Depending on the application, for example handling trays from a pallet, or bottles into trays, the AirGrip concept includes a MOTOMAN-MPL160, or MOTOMAN-MPL80 robot, the AirGrip device, a conveyor, a pallet magazine and an operator's control panel. When the requirement is bottles into trays, a configuration table replaces the pallet magazine. Either way AirGrip makes sure that the bottles are picked up with a secure hold and controlled movements are possible at high speeds. In addition to these benefits, AirGrip requires little maintenance, is easy to operate and requires only a small footprint. ENDS.
More info: