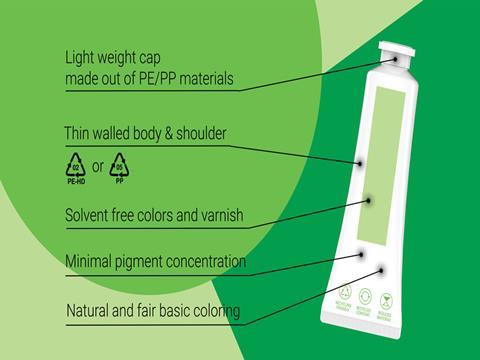 Hoffmann Neopac has debuted a set of best practices for tube packaging recyclability at CPhI Worldwide in Frankfurt, Germany. The company's Tube Design Guide for Recyclability amounts to a multi-step tutorial with "comprehensive consideration" of lighter, more circularity-minded materials.
The design includes advice on the following packaging elements:
Materials: Incorporating a thin-walled body and shoulder comprised of PE or PP materials, and not exceeding 5% of foreign material for protective plastic barriers.
Caps: Lightweight caps comprising the same PE or PP material as the tube body to guarantee a mono-material pack for recycling.
Colouring: To maintain high-quality recycling material, use a natural and light basic tube colouring and limit masterbatch concentration to a minimum.
Decoration: Stress minimalist designs and choose solvent-free, UV-cured colours and varnish.
The EU has announced elevated targets for plastic packaging recyclability, aiming for 50% by 2025 and 55% by 2030. Other geographic areas have introduced similar targets, challenging packaging manufacturers to utilise innovative materials and develop leaner production and supply chain practices. Neopac's Tube Design Guide for Recyclability is an effort to meet these demands with sound packaging science.
"Sustainability and recyclability can be particularly challenging in the pharma sector, where packaging solutions must protect and preserve the efficacy of important medicines and complex formulations," said Martina Christiansen, Head of Sales and Marketing Pharma of Hoffmann Neopac. "We see this guide – and the tubes that can be produced by adhering to it – as an important step in an ongoing process to make pharma packaging more eco-conscious."