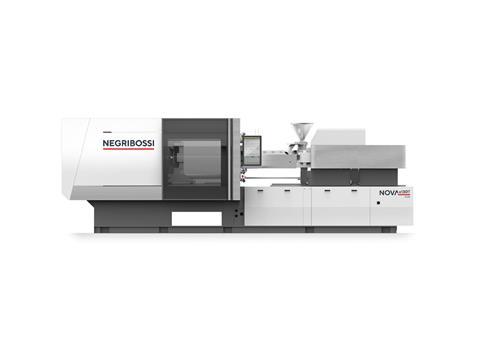 Following a highly successful European launch, NPE 2018 will be the platform to launch the Negri Bossi NOVA eT all-electric machine range to the North American market.
A NOVA eT 180-630 machine will be used to demonstrate the ability to combine energy efficiency with fast cycle times. Key markets have been identified as Medical and Packaging. A four-cavity food container lid, with in-mold labelling (IML), will be produced in a cycle time of just three seconds.
The NOVA eT is Negri Bossi's fourth-generation all electric machine. The controller has a new multi-touch platform and is Negri Bossi's third generation of touchscreen control. This demonstrates a pedigree that results from staying ahead of the competition when it comes to incorporating new technologies into mainstream products.
Available in models from 50 to 350 tonnes, the machines have highly configurable injection units. Multi-colour options are available with additional injection units being 'full electric'.
The machines are designed for maximum reliability and achieve energy savings of up to 80% when compared to conventional hydraulic drive solutions. Substantially reduced cycle times, due to full overlapping movements, are also provided.
The machine on the NPE booth will be paired with a high-speed side entry robot supplied by Negri Bossi sister company, Sytrama.
Craig Ward, Group CEO commented,
"The NOVA eT product is targeted at markets which require the performance that an all-electric solution gives and as such the specifications reflect this. The product features a new multi-touch controller, Tactum with features such as swipe and scroll. The machine is equipped with a new 'smart flex 2' locking unit with a different toggle geometry designed to be coupled specifically with electric closing and to have characteristics optimised to its target market."
In keeping with Negri Bossi tradition, the machines have been designed for reliability, longevity and performance. The 'Smart Flex 2' toggle system benefits from 70 years of experience and design evolution, while linear runners with self-lubricating bearings on the moving platen, ensure cleanliness of the die area, making them perfect for cleanroom environments.
More info: