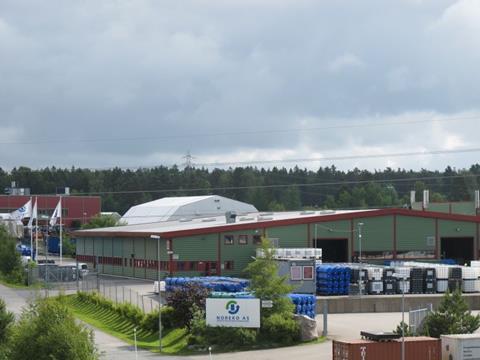 National Container Group (NCG), the reconditioning division of MAUSER, and Noreko AS have established a joint venture partnership in Scandinavia.
Effective February 1st National Container Group (NCG), the reconditioning subsidiary of MAUSER, has acquired a 51% stake in Noreko AS. The newly established joint venture will grow NCG's geographical presence to Scandinavia. Named as NCG-Noreko AS in Norway and NCG-Noreko AB in Sweden, the two Noreko companies continue their business and will become fully integrated members of the NCG network in the EMEA region. At a size of now in total 14 reconditioning sites operated across Europe, MAUSER/NCG continues to expand its unique capabilities in serving its customer base with the highest quality products and services along the full lifecycle management of industrial packaging.
Building on more than 20 years of experience in the reconditioning business each, both joint venture partners will join forces to offer IBC washing, re-bottling and laundry services as well as HDPE recycling services to the Scandinavian market. NCG-Noreko will also be responsible for all recollection services for empty IBCs in the region. Both partners will profit from the combined sales strength of Noreko and MAUSER in Scandinavia, which includes the promotion of sales of new packaging manufactured by MAUSER.
Operations will continue under the leadership of Managing Director Torstein Østensjø, a former licensee and trusted longtime friend and partner of the MAUSER family. The sales team will consist of Paal Olaussen, who will work together closely with the NCG EMEA sales team under the leadership of Andreas Schubert.
Ernest van den Boogerd, Head of NCG EMEA says: "Together with Torstein Østensjø we are both convinced, that the combination of our strengths will be to the benefit of our customers. We are committed to continue further expansion of our presence in the Scandinavian market and for providing best in class customer service and the markets most comprehensive product/service offering."
More info: