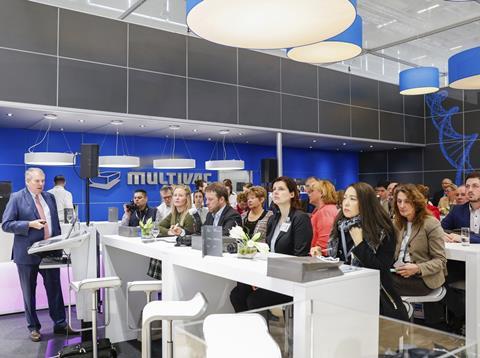 As part of a press breakfast at Anuga FoodTec in Cologne, MULTIVAC looked back on a successful 2017 and presented its strategy for 2018, which also included a catalogue of measures for supporting the EU's Plastics Strategy.
In front of more than 50 journalists from home and abroad, Hans-Joachim Boekstegers, Director and CEO, gave an overview of the past year and a perspective on what can be expected from MULTIVAC in the coming months.
At the end of 2017 the number of employees was around 5,300 worldwide, and the turnover reached virtually the 1 billion euro mark. The order intake is currently above that of 2017, and Hans-Joachim Boekstegers expects a growth rate in 2018 "of more than ten percent despite a number of risks and challenges." As regards the US market, Hans-Joachim Boekstegers does not however venture to make any reliable prognosis, given the "America First" policy of the current administration with its recently imposed import duties. It also remains to be seen, how the reactions from China and the EU impact on the global economy and world trade. "There is also some tension here in Europe, since Brexit and political uncertainty in Poland, Italy and Turkey, as well as volatile crude oil and raw material prices, continue to influence the investment climate in Europe."
Expansion of sales and production facilities
Overall however, Hans-Joachim Boekstegers sees the MULTIVAC Group as being well equipped for the challenges of the future. There is also positive news to report from the sales organisation and production sites. Last year MULTIVAC founded its own Sales & Service bases in Taiwan, Mongolia and Macedonia. A further production hall is currently taking shape at the Wolfertschwenden site, as well as the new Slicer Application Center. A new factory went into operation in the USA, as well as the new production facility in Bulgaria. Production capacity in Lechaschau as well as at MULTIVAC Marking & Inspection in Enger was also expanded. The CEO also announced further investment for the future: "We will continue to systematically drive forward the expansion of our sales and production sites, as well as working to extend our product portfolio."
Integrated solutions from one source
The future strategy of "Better Packaging and Processing" forms the framework of this for MULTIVAC, and it creates significant added value for customers. By expanding its product portfolio in the areas of upstream and downstream processing equipment, and thanks to its comprehensive expertise in line construction and automation, the packaging specialist is now in a position to be able to offer integrated and holistic solutions from one source for portioning, slicing, packaging and right up to end-of-line.
The Group was able to give significant impetus to the market last year, particularly through its acquisitions in the portioning and slicing sectors. This also applies to the MULTIVAC X-line, which was given the Gold International FoodTec Award 2018. "At Anuga FoodTec we are demonstrating our expertise in digitalisation and Industry 4.0 through this new generation of thermoforming packaging machines," emphasizes Hans-Joachim Boekstegers.
In addition to complete lines, in which the company's own portioning systems and slicers are integrated, MULTIVAC is also presenting at Anuga FoodTec a complete product range for producing high-quality vacuum skin packs with MultiFreshTM. Examples of this process are shown on a high-output T 800 traysealer, as well as on a R 105 MF thermoforming packaging machine.
MultiFreshTM films, which MULTIVAC has developed in conjunction with leading film manufacturers, are run on both machines.
In addition to this, the trade fair highlights also include a labelling solution for the D labelling of packs, which is marketed under the name "Full-wrap labelling". As with a banderole or sleeve, the label is completely wrapped around the pack, and this offers many possibilities for different types of pack design, as well as increasing the attractiveness of the packs at the point of sale.
Clear statement on the EU Plastics Strategy
Hans-Joachim Boekstegers adopted a clear position on the EU's Plastics Strategy. One third of the plastics-based packaging waste ends up in the environment, largely in the oceans, without any regulation, and in future there is likely to be a rise in packaging production. "We are therefore convinced, that a high degree of commitment and awareness of responsibility is required, not only by the plastics industry but also by all players in the process chain - this means product manufacturers, producers and packers as well as machine and film manufacturers, retailers and of course consumers."
MULTIVAC has already been actively pursuing for many years a number of initiatives in this area, and it is presenting innovative concepts in Cologne, which contribute to implementing the Plastics Strategy. These include the fact, that the technology and equipment options of the packaging machines are already designed in such a way, that they can run a wide range of packaging materials, including fibre-based materials such as paper or board.
A further starting point is the systematic reduction in packaging material consumption during the production of the packs, and this can be achieved by equipping the packaging machines with a range of different options, as well as by designing the packs appropriately, so that for example over-dimensioned packs are avoided. MULTIVAC is also working in conjunction with the packaging material industry on the development of alternative packaging materials, as well as on new packaging concepts such as the use of mono materials or so-called biopolymer materials, so that the required recycling quotas can be met.
Hans-Joachim Boekstegers does however point out, that from today's perspective the barrier properties of these materials are not comparable with those of conventional materials, and this means that there could be negative effects in certain applications on the shelf life of the packaged products.
More info: