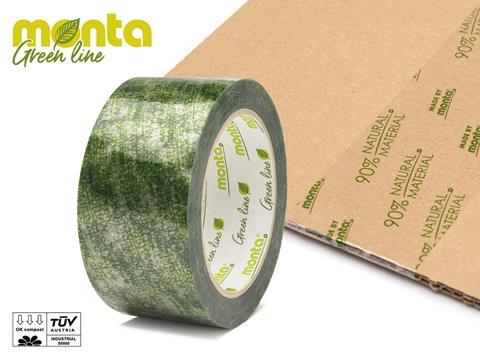 Tape manufacturer Monta has launched an updated version of Monta biopack, a product that it describes as "the first certified sustainable self-adhesive tape made in Germany."
The solution consists of around 90% renewable materials thanks to its bio-based PLA film, which is coated with natural rubber adhesive. It is certified by TÜV Austria to biodegrade within a few months and carries the "OK COMPOST INDUSTRIAL" label.
In response to an increasing number of requests from biopack users to make the sustainability credentials of the adhesive tape "visible", Monta has introduced a new printed version: Monta biopack 860 LG.
The new tape is printed using compostable ink, and, like the original version, carries the OK COMPOST INDUSTRIAL logo of TÜV Austria, meeting the requirements of EN 13432, ASTM D 6400-04 and ISO 17088 (2012).
Both biopack versions promise low material usage, as just one layer of tape reportedly offers a reliable carton closure, making it suitable for the sustainable sealing of medium-heavy to heavy cardboard boxes, for bio-based bags and films, and for bundling flowers & garden waste.
Monta biopack 860 LG is available on Monta Green line core, with a sustainable roll length of 80m x 50mm and 1200m x 50mm.