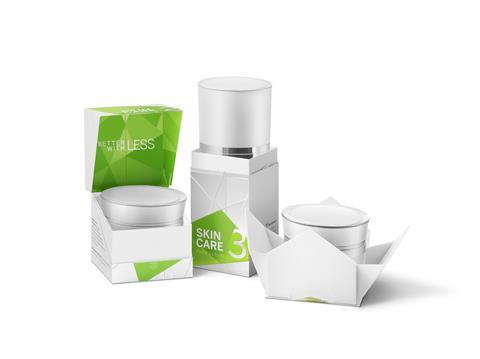 At Luxe Pack 2017 Metsä Board will showcase its recently launched unified product and service portfolio, which consists of premium paperboards and related services. The offering focuses on contributing to even more sustainable, safe and efficient packaging, now all under one Metsä Board family.
At the fair, Metsä Board will present innovative packaging solutions supporting its 'Better with Less' concept that highlights the company's aim to improve consumer experience and to make packaging even more sustainable.
Metsä Board will introduce its new, improved SkinCare gift box design which follows the multi-award-winning green SkinCare gift box. "Our target for the new and improved cartons was to keep all the appreciated benefits: light-weight materials, elimination of the plastic wrap and the unique opening experience for each box. In addition, the new cartons are now designed to be easier to run on packing lines as well as adding the possibility to reclose each box after opening," says Cyril Drouet, Design and Innovation Director at Metsä Board.
The innovative cartons use both Metsä Board's folding boxboards and microflute structures made of Metsä Board's white kraftliners. The inner tray, as well as the outer packaging, are made of molded fresh fibre pulp from Metsä Fibre. The inner tray clearly demonstrates how plastic can be easily replaced with sustainable fibre materials. "Our objective is to explore new innovative designs and use of our materials to help optimise packaging to be more sustainable and convenient. The new SkinCare carton structures offer a 20% to 30% weight reduction when compared to traditional cartons," Cyril Drouet concludes.
Luxe Pack – Grimaldi Forum, Monaco 2–4 October, Stand RC3
More info: