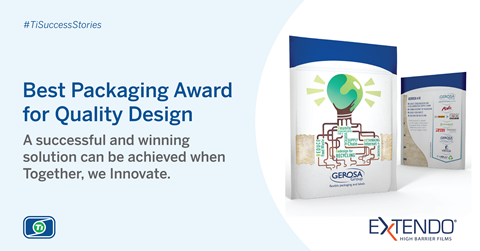 As part of Ti 's commitment to reduce plastic waste and save limited fossil fuel resources, Taghleef has broadened its portfolio by introducing reLIFE™, a range of solutions manufactured using recycled polypropylene with either PCR (chemically or mechanically recycled) or RPG (reprocessed granules) content.
Additionally, Ti launched a new array of biobased PP films made from renewable resources of vegetable origin, complementing its already excellent range of biobased solutions. Besides providing environmental benefits, these new product ranges are suitable for most packaging, labeling, and graphic arts applications and perform similarly to traditional film grades.
With reDESIGN™ service, a wide range of solutions designed to be effective and safe during their lifecycle, with enhanced environmental performance and uncompromised inherent properties, become accessible to customers. These include films that help protect products, avoid food waste, improve safety and hygiene, facilitate recycling processes, and support a greener lifestyle.
Strong partnerships with various stakeholders and Taghleef's expertise have already demonstrated successful redesigns of excellent sustainable solutions. For instance, the innovative stand-up pouch for grated cheese packaging, in collaboration with Cellografica Gerosa, was intended to replace a non-recyclable solution and combat food waste. This new packaging solution won the Quality Design category at the Best Packaging 2020 Awards - a contest promoted by Istituto Italiano Imballaggio.
Taghleef Industries' contribution to making this a success story was by providing EXTENDO® XTMU, an ultra-high barrier film with excellent transparency and oxygen barrier properties. By replacing the initial non-recyclable triplex structure of PET/met PET/PE, the proposed winning solution, which includes EXTENDO® XTMU, allows for a complete redesign of the packaging's compatibility with existing polyolefin recycling streams.
Services like reDESIGN™ are value-added offerings that give customers guidance and support to shift from current packaging structures towards more high-performing and circular economy-friendly solutions.