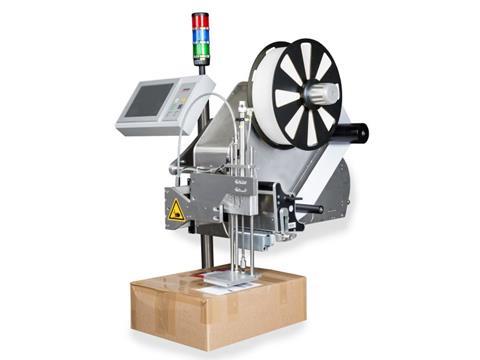 A demonstration of Linerless label printing will be given on the new Logopak labelling system Series 500+.
At this year's Labelexpo, visitors can watch the new labelling machine in use at the Evonik booth (Brussels, 2017, September 25-28, Hall 4, Booth B60). Evonik will launch its new product, TEGO® RC 1717, at the show, including Print&Apply processes of the Logopak Series 500+.
Featuring direct thermal printing and a TB applicator for real-time labelling, the labelling machine with integrated cutter will provide visitors with a personalised labelled surprise. The visitor's name can be entered manually via a graphic touch-screen display and the personalized label, 100x100mm in size, will be applied onto the give-away.
New Series 500+ Linerless labelling system: Flexible and easily customized
The Logopak Series 500+ labelling system can be easily customized with over 30 types of applicators. It also flexibly supports all standard application methods (top-, front- and side-application). For labels up to A5 size, the Series 500+ Linerless labelling system provides direct thermal printing outside wound labels with widths up to 165 mm. It also features a unique material running length of up to 1.400m.
Depending on the cyclic output, the labeller displays the remaining running length and time. In addition, the 12 mm thick labeller base plate, made of anodised aluminium, ensures stability. A significant benefit in terms of industrial hygiene is the fact that the entire design is completely devoid of corners and sharp edges. The accessible structure of the main drive roller and Print Engine means that media insertion is very straightforward.
More info: