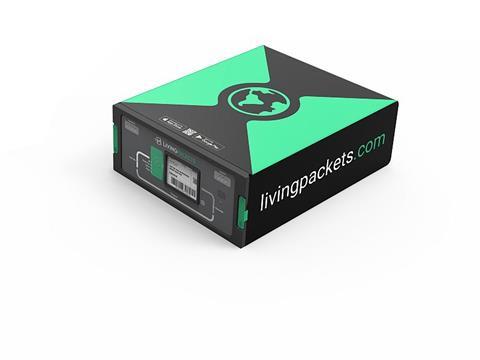 LivingPackets, a next-generation packaging solutions start-up, has launched "LivingPackets THE BOX," a revolutionary, sustainable and trackable shipping box which generates almost zero packaging waste. THE BOX targets the € 3,000 billion eCommerce market which is growing at more than 20% a year.
Reusable up to 1,000 times, the smart box holds contents up to 5kg. It features real-time environmental monitoring (location, temperature, humidity, shocks, opening), as well as an integrated camera for remote viewing of the contents. An automatic holding system eliminates filling materials such as bubble-wrap which requires hundred of years to decompose in landfills. THE BOX also integrates an electronic address display, making all packaging stickers obsolete while simplifying forward and reverse logistics. All these features are protected by global patents.
"In addition to a massive reduction in cardboard and plastic waste, THE BOX can save merchants and logistics companies significant costs - up to ten times less as compared with one-way packaging," says Alex Cotte, CEO of LivingPackets Group.
"The Box is a result of more than three years of arduous R&D work of LivingPackets, a European-based start-up whose mission is to eliminate the need for environmentally harmful packing while lowering costs and improving the online shopping experience of millions of people. Whilst the original vision of LivingPackets aimed at creating a carry-on package for travelers, it became clear that such an idea would require complex logistics. The LivingPackets team turned this obstacle into opportunity when, using the same technology, created instead THE BOX, a sustainable, smart packaging solution for e-Commerce."
THE BOX also enhances the online shopping experience where, for example, customers can either pay for, or return a shipment by simply pressing a button on the packaging. Users and packaging collection points are incentivised to return the boxes and keep them in perpetual circulation.
LivingPackets is offering eCommerce and logistics providers the opportunity to immediately participate in the mass-market adoption of this exciting new packaging solution. Firms can now place orders of THE BOX, which can also be custom-branded. LivingPackets offers a specific programme to logistics, eCommerce players and financial investors.
"The LivingPackets team believes that The Box will revolutionize the e-commerce, logistics and transportation industries. In addition to massively reducing cardboard and plastic fillings associated with packaging, The Box costs up to 10 times less than one-way packaging. To mass produce this packaging solution, LivingPackets is conducting a profit-sharing drive (crowdfunding 2.0) in addition to securing funding from private investors," Mr. Cotte concludes.