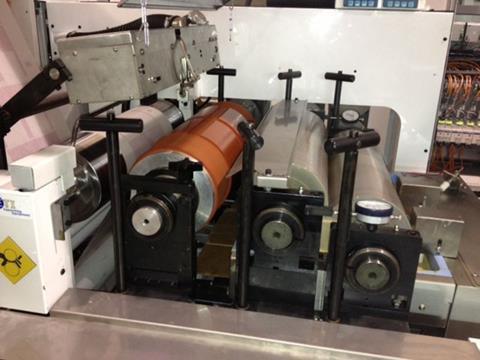 ETI Converting Equipment, a Canadian company specialized in multifunctional in-line coating and printing equipment, announces its presence at Labelexpo Brussels. ETI will demonstrate its Mini-Cohesio machine.
Designed with some unique features such as short length (7,3 m/24 ft), two unwind for facestock and liner, silicone applicator, adhesive coating station, register system to synchronize the lamination of two pre-printed web, the MiniCohesio is available in 330 mm (13 po.).
The Mini-Cohesio is also equipped with the high speed rotary die-cutting unit, the Pellicut, allowing to die-cut on very thin liner polyester film (.72 mil) or SCK or glassine paper (20 lb). The machine can also produce linerless material. The Mini-Cohesio can convert any type of paper, board or film into self-adhesive material or labels using different adhesive technologies: standard hotmelt, UV curable hotmelt acrylic and water based emulsion adhesive. The machine can be offered with in-line printing capabilities.
ETI will also present a pattern hotmelt coater. This unit allows variable repeat from 406 mm (16") to 812 mm (32") with automatic register and very accurate pre-register to minimize the waste. This unit also allows full web coating at 150 m/min with accurate coat weight control as low as 5 gr/sqm. It provides label makers with new opportunities such as: adhesive spots, coupons and special adhesive forms, including laser sheets. Recently, ETI has developed a new coating head capable of applying as little as 12 grams (½ mil) of UV hotmelt adhesive, as well as regular hotmelt, on 520 mm (20 ½") width at 150m/min (500 ft/min). This new coating head gives a perfect clear/clear label without any marks or stripes.
ETI will feature live demonstrations of the Mini-Cohesio during the four days of the show in Brussels. Demonstrations will be held daily, every hour.
Printers and visitors are invited to visit the ETI booth and meet the team to have more information on all the ETI products, 7A31 in Hall 7 at Labelexpo Europe from September the 25th to the 28th.