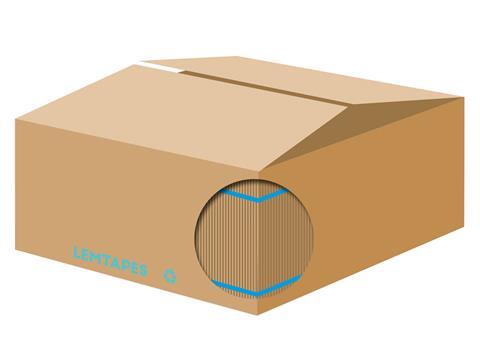 In this edition of our Innovation Spotlight series, Lemtapes Oy, a Finnish producer of tapes and adhesives for the packaging industry, introduces its reinforcement tapes, which seek to reduce material usage whilst simultaneously improving the strength of the pack.
Lemtapes Oy offers innovative solutions that improve production efficiency while reducing material usage and environmental impact. Their tapes serve to invisibly strengthen corrugated cardboard packaging while making opening easier.
Lemtapes' reinforcement tapes are designed to strengthen corrugated cardboard packaging while reducing the amount of material needed for manufacturing. For customers, the result is light and durable packaging that protects the inner product better throughout storage, transport and delivery.
Slim Tape improves production efficiency and packaging design for Adara Pakkaus
As a result of an ongoing product development strategy, Lemtapes has brought a new, thinner version of reinforcement tape to the market. Lemtapes Slim Tape offered Adara Pakkaus Oy, a Finnish packaging manufacturer, a solution to reduce the high production costs of the Karjala beer multipack box. With the help of Slim Tape, the firm's paper usage dropped by 23%:
Liner start grammage 130 g/m2, total paper grammage 390 g/m2
Achieved grammage 90 g/m2, total paper grammage 300 g/m2
This result was in line with the cost-saving structure for Slim Tape, initially presented by Lemtapes at the FEFCO Technical Seminar.
For the Karjala multipack carrying handle, Lemtapes developed an even thinner reinforcement tape. Its tensile strength matches standard reinforcement tape, but enabled a 22% thinner reinforcement material, from 0.27mm to 0.21mm.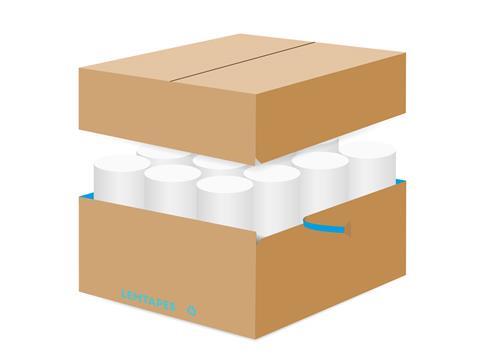 In addition to durability, consumer friendliness in packaging manufacturing is becoming more important. Even large cardboard packaging must be functional and attractive, both from the perspective of transport and the end consumer. For this reason, the need for innovative packaging design, high print quality, and colour has grown.
The challenge for Adara Pakkaus was to produce visually appealing packaging that was durable enough to withstand warehousing and transport. The thinner tape Lemtapes provided enabled high-quality printing on cardboard packaging, making it possible for Adara Pakkaus to achieve a more distinctive and memorable brand look. The thinner Slim Tape provides more options overall for developing unique and distinctive packaging, both in design and implementation.
Lemtapes emphasises sustainability
For Lemtapes, it's critical to offer ecological solutions for its customers – and environmental sustainability is a key focus in their continual product development efforts. That's why most of Lemtapes' products are available in the form of cellulose-based Pure Tape, which won the FEFCO Sustainability Award in Geneva, Switzerland in 2019.
Lemtapes' Pure Tape innovation replaces the plastic fibres used previously in the reinforcement tapes of corrugated cardboard packaging. Aiming to be entirely biodegradable, Pure Tape's primary raw material is cellulose – and 75% of Pure Tape is composed of bio-based material.
Lemtapes has developed Pure Tape alongside Eco Tape, another environmentally friendly tape. Eco Tape is composed entirely of recycled material and can be used either as a reinforcement tape or opening tape. In terms of functionality, it is identical to Lemtapes' Carton Tape.
Using Pure Tape or Eco Tape to reinforce cardboard packaging reduces its overall carbon footprint.
Aside from ecological tapes, Lemtapes has designed several products to benefit the packaging industry, such as Open Tape, which work together to offer a frustration-free customer experience.
Read more about Lemtapes Oy: www.lemtapes.fi
Order a sample roll to test in your production process: www.lemtapes.fi/sample
Contact for more information: www.lemtapes.fi/contact
This content was sponsored by Lemtapes Oy.