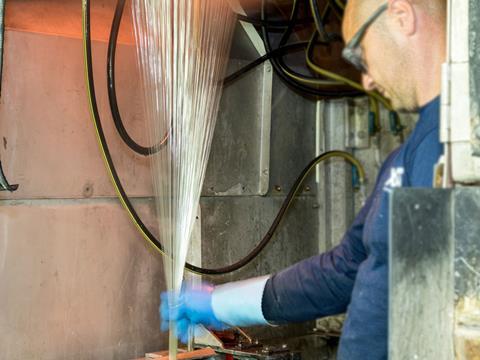 Specialty chemicals company LANXESS has revealed Durethan ECO, a new polyamide product range made from recycled glass fibres.
Recycled fibres manufactured from waste glass account for 30%, 35% and 60% by weight respectively of the three new polyamide compounds that make up the range.
Ecocycle, an independent inspection company, has reportedly examined the amount of recycled material in each compound, as well as the long-term use of the glass waste stream using the mass balance method, and awarded an ecoloop certificate in accordance with ISO 14021:2016.
Developed by the Ellen MacArthur Foundation, the mass balance approach is a process whereby recycled raw materials are incorporated into production together with the petrochemical or mineral feedstocks commonly used otherwise, and then arithmetically allocated to the end product.
LANXESS says that the application of the mass balance approach helps it to produce a product whose attributes are identical to those of virgin quality materials.
"We want to help make the switch from a throw-away society to a circular economy. Our goal is to make more and more of our plastic products sustainable so that our growth is less dependent on the consumption of finite resources, and can improve our carbon footprint and protect the environment," explains Dr. Guenter Margraf, global product manager at the company's High Performance Materials business unit.
The company says that a version with a reduced carbon footprint is already in production. The caprolactam required to produce this more environmentally friendly polyamide is based on a selection of petrochemical raw materials that support this concern.
For now, LANXESS' primary target for the three existing compounds is the automotive industry. As Margraf explains: "Durethan ECOBKV60XF offers exceptional strength and rigidity, which makes it suitable for manufacturing structural components such as front ends, pedal bearing brackets and A-, B- and C-pillars, as well as lightweight battery trays for electric vehicles."