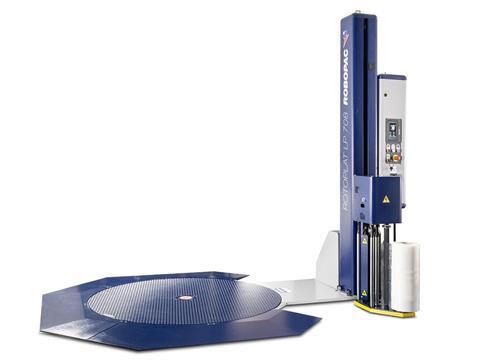 Kite Packaging, a UK packaging supplier has introduced new low profile additions to its machine range.
With product demand rising and the emphasis on efficient practice increasing, businesses are striving for the ultimate packing operation to maximise their return.
When it comes to the pick, pack and despatch process, palletising goods can be a deal breaker in terms of efficiency for the warehouse and in transit.
Employee-owned business, Kite Packaging, has introduced its new low profile range of machines to allow for a swifter pallet wrapping operation – being the first company of its type to implement a fully operational machine.
These low profile additions are available in the Masterplat and Rotoplat ranges, offering reliability due to their lowered patented disk rolling system that makes manoeuvring products on to the machine easier and straightforward.
Each model comes with a ramp which fits around the machines turntable, enabling high flexibility and space saving when loading warehouse goods thanks to the possibility of access from every side on a reduced slope.
Another useful feature of the low profile machines is their 60% reduced thickness which minimises frequent accidental bumps obtained from forklift trucks.
Kite's team also have access to R connect, a revolutionary monitory system which connects to the machines, enabling complete control of machine operation and total support to the customer.
This pioneering innovation can be installed directly on to the machine or installed at a later date, allowing the end user to see how efficient their machine and film are operating.
These new efficiency boosting systems can help businesses across the country monitor and reduce their waste and costs, proving highly useful for a wide range of Kite's customers.