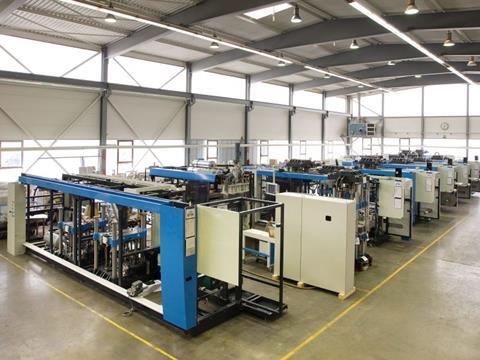 Kiefel GmbH, Freilassing, a leading supplier of plastic processing machines, looks back on a successful year in 2016 and has reported substantial growth increases again for 2017.
After incoming orders of 2016 developed very positively, the related turnover of 2017, including the turnover of the daughter companies, Bosch Sprang in the Netherlands, Mould & Matic Solutions in Austria and SWA in the Czech Republic has increased by 50% to approx. € 200 million. Incoming orders rose at the same rate in the first half of 2017. This stabilizes the positive business development and it is already clear: 2017 will be a new record year for Kiefel.
Incoming orders and turnover have increased in all Kiefel business areas. Even though the largest contribution to comprehensive income is made by the packaging sector, likewise, record results have been achieved in the automotive and medicine fields.
"The order intake of the last year and the resulting sharp increase in turnover this year far exceeded our expectations. Also in the current financial year we are expecting a significant increase of sales figures compared to the previous year", emphasizes Kiefel CEO, Thomas J. Halletz. "This results, on the one hand, from the successful placement of our innovative technologies and systems. On the other hand, we have been able to round off our product portfolio with some acquisitions, thus opening up further customer bases. In addition, the Brückner Group, which is family-owned and we belong to for some years now, promotes the sustainable development of its companies. Thus, this has contributed significantly to the success of Kiefel."
Global growth
In Europe, there is a clear improvement in the economic situation. Accordingly, the region continues to be the most important sales market for Kiefel.
Due to the favourable economic situation, a record order intake was also achieved in the US market. The Kiefel Technology Center in Detroit and the acquisition of the tool and mould manufacturer Paragon Molds also opened up further growth opportunities in the automotive sector. As a result of the intensification of market processing in Asia – particularly in Southeast Asia – the largest percentage increase in order intake and sales was achieved there.
Success creates jobs
"Without highly motivated and qualified employees, it would not be able to cope with the exceptional growth of Kiefel in Freilassing. At the same time, this growth continuously creates new jobs" says Dr. Bernd Stein, CTO of Kiefel GmbH. "Our interesting product portfolio with innovative technologies combined with ideal working conditions offers the employees an attractive field of activity." At Kiefel in Freilassing, 500 employees currently are employed. Including the strategic acquisitions of recent years, some 1,000 people work for the Bavarian traditional company.
More info: