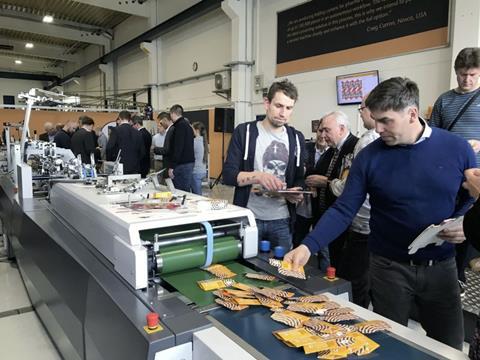 More than 80 participants from eight countries visited the Open House of KAMA GmbH for Eastern Europe and Germany from 13 to 15 March in Dresden, including numerous job printers and well-known manufacturers from the high-quality packaging sector.
Under the motto "Impress with postpress", the machine manufacturer showed for the first time the digital networking of their versatile solutions via a central cockpit with the new software "KAMA Job Manager" - KAMA's realisation of Print 4.0. Customers and interested parties from Poland, the Czech Republic, Slovakia, Austria, Slovenia, Croatia, Bulgaria and Germany experienced in Dresden compact workflows from the print sheet to the product ready for delivery - for job printing and packaging.
Versatile and networked
"We connect our solutions for postpress with the network of work preparation and printing press", claims KAMA CEO Marcus Tralau. "The goal is a networked workflow that manages especially in digital printing the increasing number of jobs safely and efficiently - including the applications in the further processing." The KAMA Cockpit communicates with the MIS and the machines for die cutting, embossing, stripping and folding and gluing, sends the job-related data and the appropriate setting values to the machines and gives the feedback from the production - such as duration of the set-up time, production time, speed, good sheets, etc. - in real time back to the network. The production was shown with finished folders with capacity, folded cards with a dispensed sample and different folding boxes from small to large, with straight-line or lock bottom. The particular strengths of the KAMA workflows include inline stripping without tools, software-based setup with minimal waste and record-fast job changes on the ProCut 76 and DC 76 die cutters as well as on the KAMA FF 52i short-run folder gluer for digitally printed folding cartons, partially in less than 5 minutes.
Folding carton pro's at KAMA A few days before the demo days, the Fachverband Faltschachtel-Industrie (Professional Association of the Folding Box Industry) FFI visited KAMA and learned about the workflow on demand in finishing. What particularly impressed the participants of the FFI working group "Small but fine": the versatility of the die cutting and embossing machine ProCut 76 with tool-free stripping and blanking and the high quality of the layouts.
More info: