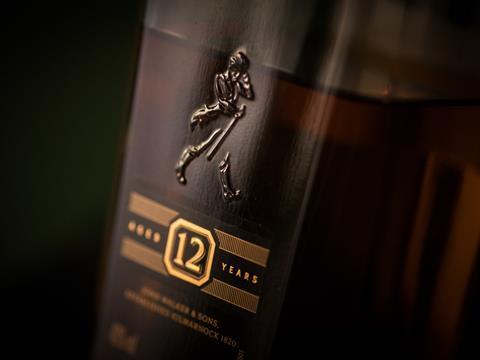 Johnnie Walker – the world's best-selling Scotch – is launching The Next Steps initiative, a move it is describing as its "biggest-ever sustainability push."
By 2030, the Diageo-owned company says that all its packaging, including secondary packaging such as gift boxes, will be recyclable, reusable or compostable, alongside commitments to making all its whisky production net-zero carbon and moving its distilleries to using 100% renewable energy.
Johnnie Walker is also committing to reducing its environmental impact by increasing the recycled content in all its packaging material: including a minimum of 60% recycled glass in its core range bottles by 2025, which the brand projects will see it use 13,000 fewer tonnes of carbon every year.
Ultimately, the company says that 100% of the plastic used in its packaging will be made from recycled content, while its glass bottles are set to be up to 25% lighter.
The brand predicts that all of these actions to slimline its packaging will reduce its carbon footprint by 15% - equivalent to 4,200 return flights from Edinburgh to Sydney.
According to Julie Bramham, Johnnie Walker's global brand director: "Over the next few years, the choices we make and the actions we take will make a tangible difference to the environment. But more than that we want to do what we can to help give people all around the world the chance to make simple, more sustainable choices themselves and, in doing so, play their own part in building a better future."