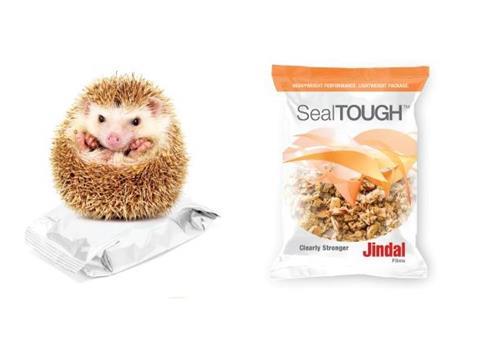 In a significant development for the flexibles segment, Jindal Films Europe has introduced its latest development in polyolefin sealant technology - SealTOUGH™. Launched this week at interpack 2017, SealTOUGH™ is a new coextruded packaging film targeted to replace sealant layers in a lamination or single layers in mono-web applications, thus delivering considerable scope for material reduction without compromising performance.
According to Jindal, SealTOUGH™ provides unmatched puncture resistance at low and ambient temperatures, improved modulus and seal strength that can exceed 5,000g/2.54cm. This latest breakthrough technology provides downgauging potential of 30%, 40%, or more compared to traditional sealant films.
Jindal Films continues to set new standards for performance and sustainable solutions that support the flexible packaging industry. SealTOUGH™ bridges the attributes of BOPP and blown polyethylene (PE) film with enhanced performance benchmarks for puncture resistance and strength. Packaging designs utilising SealTOUGH™ contribute to meeting the environmental objectives of source reduction and recycling.
SealTOUGH™ consistently outperforms blown PE. With a three-fold improvement in tensile strength, two-fold improvement in modulus, puncture resistance, and impact resistance, SealTOUGH™ surpasses the current applications of blown PE. These include frozen food, dairy, confectionery, snacks, dry fruit and nuts, pasta, rice, bakery items, produce, and dry products. Utilising SealTOUGH™ as Form-Fill-Seal (FFS) bags, freezer bags, lamination and hygienic bags harnesses property enhancements that allow the use of thinner films with lower weight and opportunities to reduce costs.
How to take advantage of the key properties in real life packaging applications? One example is vertical form-fill-seal (VFFS) packaging with high puncture resistance requirements. To ensure packaging robustness, a layer of oriented nylon (OPA) film may be used in a laminate. This is often done even if the specific barrier properties of OPA are not required. Boosting the properties of the sealant by replacing the blown PE by SealTOUGH™ film enables OPA to be replaced by an OPP film as well. The benefits are downgauging, improved recyclability, improved packaging optical properties and cost savings.
"SealTOUGH™ films offer superior puncture resistance and strength, while enabling significant downgauging opportunities to provide both a performance advantage and cost savings," said Dr. Henning Seidel, Commercial Development Manager at Jindal Films. "We started with clear and white film but have recently extended our platform with innovative metallised SealTOUGH™ grades, combining the PE sealant and the metallised OPP barrier properties in one single film."
When replacing a 30μm blown PE film with a SealTOUGH™ 18μm transparent film, the customer can achieve up to 41% downgauging, two-fold improvement in clarity, equivalent ultimate seal strength, improvement in puncture resistance and impact resistance, three-fold improvement in tensile strength and 50% reduction in elongation.