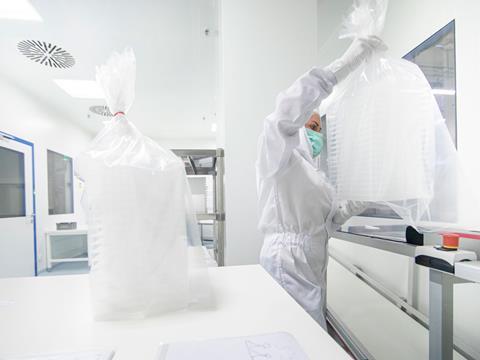 Ready-to-use containers for sterile injectables: "tub" and "nest"
In the future, the production of sterile injectables will be more efficient, highly flexible, less complex and quicker to adapt to rapidly changing market requirements and patient needs. To support the pharma industry, Fischer Söhne AG has produced successful ready-to-use packaging solutions for almost two decades.
The so-called "nests" and "tubs" are produced in a GPM C class (ISO 7) clean room. The parts are moulded with single-cavity tools or with a stack mould configuration as multi-cavity tools. To reduce contamination, the parts are handled with robot systems. Furthermore, the packaging of the "nests" and "tubs" is highly automated, including the labelling process. As we are able to run the production 24/7, we can, therefore, produce small as well as very large quantities.
The ready-to-use tub and nest enables our customers to use the parts on their existing machines. Additionally, it is also a safe transportation configuration, preventing glass-to-glass contact and reducing defects like scratches, breakage, and particles. Subsequently, manufacturers can reduce the number of filling lines needed to produce various drugs. This reduces the TCO (Total-Cost-of-Ownership).
In-house development
As the Swiss market-leader for extrusion blow moulding and with excellent injection moulding knowledge, Fischer Söhne AG can offer the following development and project phases:
Design proposal
Conceptual preliminary study
Development / Prototypes
Industrialization / Qualification and Validation
Production
Continuous improvement
When carrying out a project, we are obligated to ensure that your products entirely fulfill the requirements and that the time to market is as short as possible. In the development phase, we make sure that we identify the most secure, efficient and effective manufacturing process for your product.
This content was sponsored by Fischer Söhne AG.