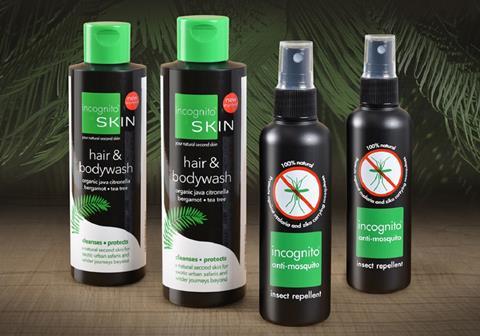 Spectra recently created new environmentally friendly bottles for award-winning skincare brand incognito.
The two new packs take advantage of standard designs from Spectra's extensive off-the-shelf ranges and are made from biopolymer, which uses ethonal from sugarcane waste.
The new hair and body wash pack uses Spectra's 200ml Tubular (Ref: 6004), whilst a 100ml Tall Boston Round (Ref; 6016) has been chosen for incognito's award-winning anti-mosquito spray.
Sourced from the ethanol from sugarcane waste as opposed to conventional oil based HDPE, biopolymer HDPE benefits from 96% renewable raw materials and can be recycled in same stream as normal HDPE, making it the perfect environmental alternative to regular HDPE polymers.
The beauty of Spectra's biopolymer HDPE is there is no difference to normal HDPE other than the undeniable environmental benefits.
For example, there is no is difference in appearance or colour, no difference in the process or productivity and no difference in performance or properties to conventional HDPE.
Nicky Monina from incognito® said, "Our aim is to ensure consistency across all our product line packaging and Spectra stepped up to the plate with a biopolymer solution for both of these products. As an ethical brand with a long term sustainable focus, it's important that we can have confidence that our packaging can deliver what's needed and evolve with us in an ever changing environment.
More info: