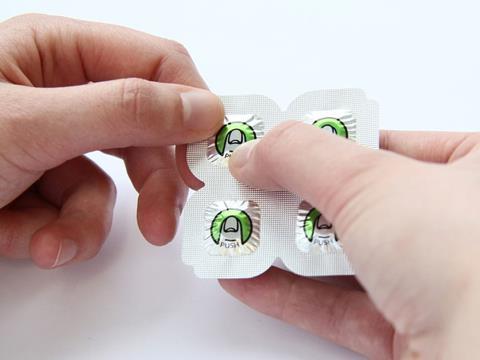 Huhtamaki, a manufacturer of consumer and specialty packaging, has announced what it says is the first recyclable strip packaging for pharmaceutical solids – Push Tab loop.
Designed to be a cost-effective and sustainable alternative to blister and cold form packaging, this new addition to the company's Push Tab range was developed in collaboration with strip pack machine manufacturer Romaco Siebler.
Push Tab loop is part of Huhtamaki's Blueloop product portfolio, apparently fulfilling the Blueloop criteria for sustainable packaging, stipulations for which include: The use of more than 90% components of the same material class, a primary packaging recycling rate in an existing and proven recycling process of more than 70%, and the absence of PVC, PVDC and PS (or EPS).
Fabio Daidone, Senior Sales Account Manager at Huhtamaki, commented: "We developed this product because there were more and more calls from the food, pharmaceutical, and nutritional markets for a version of our Push Tab range which could be recycled.
"Machineability with this new product was not easy, but due to our close partnership with Romaco, this process became easier than we initially expected it to be."
With the launch of its Push Tab range, strip packaging with push-through function, Huhtamaki made its first steps in the pharmaceutical tablet packaging market. Further variants of this flexible blister are Push Tab eco, a version using less aluminium, and Push Tab clear, which brings product visibility.
As far as eco-balance is concerned, Huhtamaki argues that its Push Tab product family already had an advantage over conventional blister packs. This is due, the company says, to significantly lower material consumption, especially in direct comparison with Al/Al blisters. In addition, the surface of the packaging film can be printed on both sides and provides more surface area on the packaging to market the product.