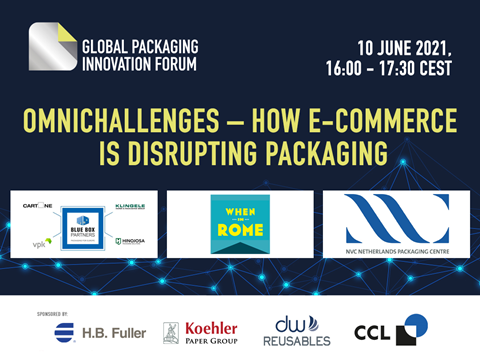 E-commerce will be in the spotlight at our next Global Packaging Innovation Forum session, happening on 10th June at 16:00 (CEST).
Our experts will explore the ways in which the rapidly growing e-commerce channel is adding complexity and setting new problems across the direct-to-consumer supply chain, from fulfillment to unboxing.
Speakers:
Daphné Deledicq (chief innovation officer at Blue Box Partners)
Rob Malin (CEO of When in Rome)
Corné Huijben (knowledge development manager at NVC, Netherlands Packaging Centre)
Moderator: Tim Sykes (brand director at Packaging Europe)
This session takes place as part of our Global Packaging Innovation Forum – a new digital space in which the packaging value chain can access and share information and ideas.
Click here to log in/sign up for the Forum (for free)
Click here to learn more about this session