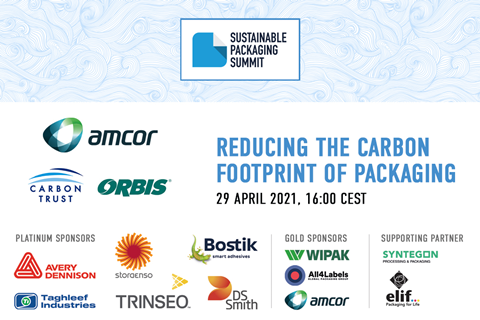 Climate change arguably presents a graver threat to the environment and human civilization than even the plastic pollution crisis. This is the topic our expert panel discuss in our latest session of our Sustainable Packaging Summit, which took place on 29th April and is now available to watch on demand.
In this live discussion, we'll be exploring the strategies that FMCG companies can adopt to drive down the carbon emissions associated with their packaging as it passes through the supply chain - as well as the technologies and policies industry must advance to reduce the footprints of packaging materials and systems relative to today's baselines.
Speakers include:
Sarah Laidler (the Carbon Trust)
Gerald Rebitzer (Amcor Flexibles)
Jürgen Krahé (ORBIS)
Tim Sykes (Packaging Europe)
In the meantime, there's plenty to keep you occupied on the virtual Summit platform – from watching sessions on-demand to making use of the networking feature, which lets attendees contact each other and meet up virtually.
Click here to log in/sign up for the Sustainable Packaging Summit.
Click here to put this event in your calendar.