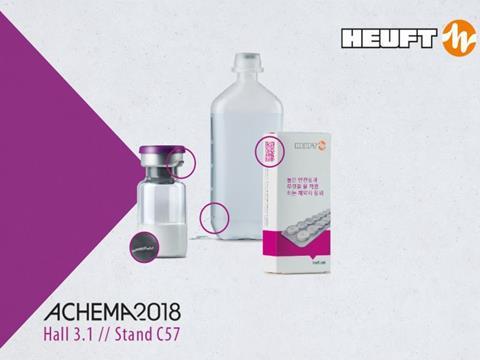 From syrup to BFS bottle, blister pack to cannula and aerosol can to vial: HEUFT will be showing how a 100% quality inspection of filled pharmaceutical primary packaging material along an efficient straight-through system is possible in a confined space on Stand C57 in Hall 3.1 at ACHEMA 2018 in Frankfurt am Main.
The highlights: intelligent systems of the new generation which make solid foreign objects such as glass and metal particles visible carefully and precisely even in non-transparent products – with pulsed X-ray technology.
Full equipment for full detection and rejection reliability: functionality and automation at once concerning the straight in-line inspection of pharmaceutical containers filled with parenterals and other medicinal substances. HEUFT has integrated X-ray strobes into an extremely compact inspector for vials containing between 2 ml and 100 ml for the first time in addition to sophisticated technologies for the reliable optical identification of, among other things, closure faults, deviations in filling quantity, glass defects, contamination and foreign substances.
Thus the fully equipped HEUFT spotter II PHS identifies the smallest metal fragments, glass particles and other solid foreign objects in lyophilised and other non-transparent products highly precisely – and so carefully that in many cases even that which was long considered unthinkable becomes possible: the safe X-ray inspection of active pharmaceutical ingredients (APIs). Another new development from the series will be celebrating its ACHEMA premiere especially for the complete examination of larger vials (20 ml to 1,000 ml): the HEUFT spotter II PHL. The pulsed X-ray technology can also be integrated here.
It is in the HEUFT eXaminer II XB as a standard feature. Therefore the careful and precise top-down inspection of pharmaceutical primary products in order to identify foreign objects, product defects and incompleteness is also achieved at very low radiation levels.
The precision of the HEUFT squeezer II QS when checking the tightness of blow fill seal bottles for parenteral preparations. The HEUFT SPECTRUM II ATEX which will be presented live carries out a leakage and fill level detection for aerosol cans in the Ex area.
All these intelligent devices are based on the HEUFT SPECTRUM II the comprehensive platform for modular systems of the new generation including the audiovisual HEUFT NaVi user guidance. This makes them highly automated, self-explanatory and tamper-proof with unequalled efficiency during specific product tracking, inspecting and fault rejecting. Therefore the 100% inspection of up to 1,200 pharmaceutical products per minute is made simply easy. An online connection to higher-level databases and MES systems ensures real-time transmission, the preparation and archiving of batch and production data, test container and Knapp test logs as well as a reliable audit trail documentation. Fundamental FDA, GMP, GAMP5 and 21 CFR Part 11 requirements are fully met.
Also network-compatible: the new HEUFT ONE. The particularly compact stand-alone device now also opens the door to marking verification and closure detection on a HEUFT level for fillers of pharmaceutical products.
All these systems manage without a carousel and product-specific change parts. The system saves space as well as storage, maintenance and energy costs and at the same time increases the production quality, operational reliability, efficiency and productivity of complete pharmaceutical packaging lines.
Visit the ACHEMA stand of HEUFT SYSTEMTECHNIK GMBH: 11 to 15 June, Messe Frankfurt, Hall 3.1, Stand C57.
More info: