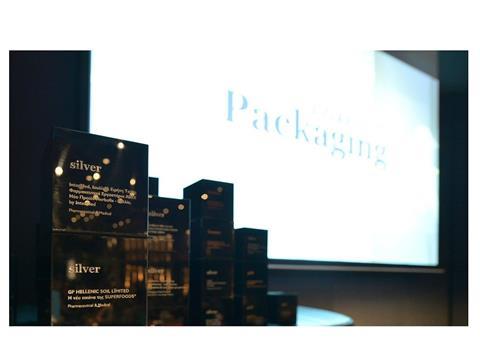 In October Hatzopoulos won three prizes at the "Packaging Innovation Awards 2017".
Professionals from the packaging, FMCG and creative design sectors had the chance to participate to the internationally recognized Greek competition that supports and honors innovation in packaging design and development.
With its "Bio packaging solution" and "Power Gel stick pack" entries the company's technical innovation and expertise was emphatically recognized in all three categories entered: "Glass / Paper / Flexible Plastic Pack" (Gold), "New Packaging Method / Usage of New Raw Materials" (Gold) and "Food" (Silver).
The Bio packaging solution concerns the company's novel proposal for a sustainable, fully bio-degradeable packaging option, suitable for various sensitive products, including coffee, snacks and dehydrated products.
All components of the laminated film are certified by EN13432:2000, the legal frame deriving from the EU directive on packaging waste management (94/62/EC). including all requirements for the design & the production of compostable and biodegradable packaging materials.
The benefits of Hatzopoulos Bio-design concept:
No printing process limitation, based on specific design guidelines
A complete color range is available for the design of the graphics
High barrier properties, protecting the product against humidity and oxygen
Suitable for many different packaging types
Suitable for high speed packaging machines
Hermetic sealing of the pack is at all cases guaranteed
Its novel Power Gel stick pack project concerns a quadriplex structure with laser scoring for a unique-shaped stick of energy gel for athletes.
The packaging material provides high barrier properties against moisture, oxygen and aroma. In addition the raw and secondary materials have been selected carefully, to withstand the hot-filling and pasteurization procedures. The stick form remains intact during transportation and it can resist as well any pressure exerted by the athlete who may carry the pack on them during practice / or on the field (e.g. bicycle race). Hermetic sealing is safeguarded at all times, irrespective of gel viscosity or pasteurization conditions.
The stick is hyper-functional, as triple laser scoring is applied to the packaging material, in order to ensure fast, easy and safe opening by the athlete and the top area shapes a nozzle, so that the gel may be consumed immediately by the athlete. Critical point is the "trash chain" that is created on the top corner of the stick, which is necessary so that environmental pollution is avoided. Rotogravure printing has been selected for this range, with the metallic effect giving an impressive and dynamic visual appeal.
More info: