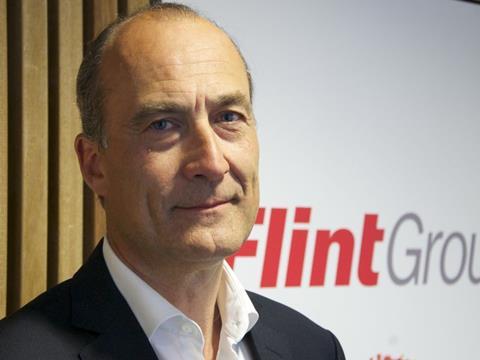 Flint Group has reported it will be exhibiting a wide range of innovative solutions for labels and packaging at Labelexpo Europe, scheduled for 25 to 28 September in Brussels.
Combining industry strengths, four of its divisions (Flexographic Products, Narrow Web, Digital Solutions (Xeikon and ThermoFlexX) will showcase together solutions that enable label printers and converters to better position themselves to address emerging market realities. Flint Group will be located in Hall 5 on stands 5C25-28.
"Flint Group is a one-stop shop for label converters and during Labelexpo Europe we want to demonstrate that for the first time on one booth," comments Antoine Fady, CEO Flint Group. "This ranges from prepress and pre-production, through digital print & embellishments, converting and delivery. And we are excited to be bringing some new products to the show. As always, our teams of narrow web, Flexographic Products and digital print experts will be on hand to learn more about the business needs of visitors to our stand, providing them with relevant information about how we can help."
Flexographic Products: Flexo platemaking in a class of its own
With an unmatched product line ranging from nyloflex® printing plates and equipment, rotec® sleeves and adapters, Flint Group Flexographic Products will showcase its comprehensive technology for the printing industry. New at the show will be the nyloflex® Xpress Thermal Processing System, with a smarter design that is easier to use. It delivers thermal platemaking with no compromise in quality. The nyloflex® Xpress Thermal Processor will be on the show floor to demonstrate the unprecedented control and more consistent and stable plate production provided by the new equipment. At the heart of the processing system are the nyloflex® Thermal Printing Plates, which serve a variety of application needs, including film; and the innovative nyloflex® Developer Roll, which is designed to be highly efficient and environmentally friendly. "This is thermal like you've never seen before. We believe our new, integrated solution, is in a class of its own. We achieved this result by looking at the thermal process holistically. By combining the best in equipment design, plate development and engineered fabric, Flint Group is offering a system which leads to reduced costs, improved quality and improved sustainability." says Friedrich von Rechteren, VP Sales EMEA & Global Marketing. For more details, read the full news release. Visitors to the booth may request a free nyloflex® Xpress Plate Trial Test Kit.
Also on display at the booth will be Flint Group's patent-pending, state-of-the-art rotec® Eco Bridge for use in flexographic printing presses and on plate-mounting equipment. The rotec® Eco Bridge is an adapter with a breathable metal ring which creates an air pillow to allow easy and fast mounting of sleeves. This bridge reduces up to 90% of the air volume requirement, up to 30% reduction in noise and significantly improves ease and speed of mounting all sleeves.
Expand your capabilities: get into food compliant packaging with the latest innovation, low migration UV LED inks
Flint Group Narrow Web will provide tangible examples of how converters can expand their capabilities and consider new market opportunities – the wider world of narrow web flexible package printing!
For the event Flint Group Narrow Web will demonstrate their comprehensive range of food packaging compliant printing inks for all major printing technologies: UV Mercury Flexo, UV LED Flexo, Water Based Flexo and UV and EB Offset. We will present our latest innovations in Low Migration– with a special focus on the award winning and ground-breaking UV LED low migration technology, EkoCure™ ANCORA.
"Low Migration LED curable inks and printing systems open up opportunities for expansion into food packaging that did not exist before," stated Kelly Kolliopoulos, Global Marketing Director, Flint Group Narrow Web. "Narrow Web Customers can now print on heat sensitive films because the LED systems operate at much lower temperatures, and additionally they can meet food packaging compliance because of Flint Group's novel low migration ink chemistry. We look forward to sharing with our customers details on food packaging compliance, LED and reliability of cure, business expansion ideas, and an economic model to show how fast return on investment can be."
The new Xeikon PX 3000 European debut at Labelexpo Europe 2017
Xeikon will be displaying its newly launched Panther technology, a UV inkjet platform that complements Xeikon's dry toner technology, and the first UV inkjet press based on this technology, the Xeikon PX3000. The new press was developed in response to the growing need for new technologies in digital label printing, to drive new applications and to produce them in the most efficient way. The primary application focus for the Xeikon PX3000, which prints at a resolution of 600 dpi, is self-adhesive health & beauty and industrial labels, with dry toner being the preferred technology for applications where food safety is a requirement.
"The Xeikon PX3000 complements our comprehensive portfolio of toner-based digital label presses that will also be on display at the show," comments Filip Weymans, VP Global Marketing for Xeikon. "This technology will enable even more applications and longer runs to migrate from analogue to digital technologies. The printed output is scuff and scratch resistant and resists damage from water or chemicals without the need for lamination. Plus, our new aXelerate program will help converters understand how to sell digital in order to ramp up volumes quickly – whether in toner or inkjet." For more details, read the news releases on Panther Technology and Xeikon PX3000.
State of the art imaging technology presented by ThermoFlexX
ThermoFlexX platemaking systems provide high resolution plate exposure including screening, as well as workflow management. Next to automated prepress workflow software from partner Hybrid Software, ThermoFlexX will also showcase:
· The ThermoFlexX 48 with a maximum plate size of 900 x 1200 mm, which comes with a fixed FlexTray that makes automatic loading and unloading of plates easier. Its standard 2540 dpi resolution makes it ideal for flexible packaging and folding carton applications.
· The ThermoFlexX 30 will be shown with a hybrid drum that enables processing of both Polyester Flexo plates as well as "Steel-back" Letterpress plates."All of our imagers use our proprietary imaging technology that enables us to image at different resolutions, including the unique ability to image different resolutions on a single plate," explains Christophe Lievens, Director of Sales & Marketing for ThermoflexX. "And our maximum resolution of 5080 dpi offers the ability to create extremely high quality products. In addition, our unique vacuum slider concept allows production of partial plates without the need to fix plates with tape, improving overall productivity."
More info: