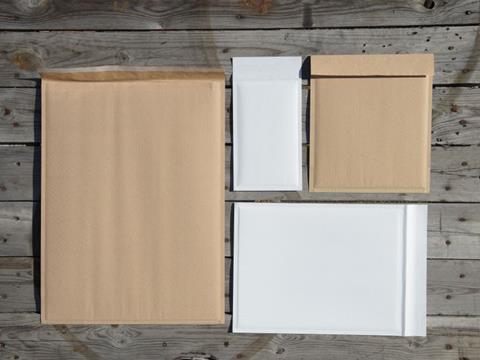 The countdown is on for the live Sustainability Awards 2019 ceremony, where we will unveil the worthy winners of the most prestigious sustainability competition for packaging innovation.
In anticipation, we explore the 25 standout solutions that made it to the finals, handpicked by our independent, expert judging panel.
Today, we find out more about Offmar srl's WaveBag, a finalist in the Recyclable Packaging category. WaveBag is an innovative mailer that thanks to its wave padding made from paper, combines protection with aesthetics and sustainability.
Congratulations on being selected as a Sustainability Awards 2019 finalist! Could you please introduce your successful initiative?
Offmar has been active in the packaging market since the 1970s. From its origins as a mailer machinery producer, it is able to produce bespoke solutions for its customers. In 2016, a new crucial need arose inside, which was how to embody the green revolution coming up. WaveBag, a protective mailer, has been our answer to it. Simplicity and sustainability are our leading values to achieve what has become our purpose: modifying costumers' recycling habits to make a significant world impact.
• What are the environmental challenges in packaging that your entry addresses, and how well is the market responding to them so far?
There are two main environmental challenges in packaging that WaveBag is addressing. First, a lack of regulation in terms of clarity, which means the same rules in all countries (at least in all Europe), more protection for those who respect them. Secondly, even if green awareness is firmly increasing, stakeholders are sceptical about investing more efforts to properly handle the environmental crisis. Therefore, from our experience, the market is promising but many constraints are affecting the development of the sustainable packaging market.
• 'Sustainable packaging' is a contentious concept, which means different things to different people, and anyone working in packaging understands that it's easy to make things worse according to one environmental metric while making improvements according to another. In your opinion should there be a hierarchy among our sustainability goals?
Everything that is done to reduce the carbon footprint is laudable. However, it is necessary to prioritise to avoid the risk of wasting crucial resources. Therefore, we strongly believe in building a system based on collaboration (and not on competition), which would allow us to align companies' goals, needs, and purposes. This collaborative system is more flexible in responding to nowadays complexity than a hierarchical system. This new approach might encourage new synergies among companies, which means saving time and resources. In the end, we hope to be part of a bigger system, that shares values, vision, and goals to make worthy all the efforts already put in the field to win the environment battle.
• Clearly, sustainability in packaging needs to be achieved by many stakeholders acting together, not by someone with a silver bullet. Thinking about the wider picture, what areas of innovation or action would you like to see across the value chain in the coming years to meet the demands of nature and society?
In our opinion, innovation has been used too often in a meaningless way. The modern scientific era tried to predict the future by accumulating and interpreting patterns from the past to extrapolate models for the future.
But the single, predictable, fixed future that the trend modelling proposes does not actually exist. Instead, what is out there is a multitude of possible futures. What lies at the heart of this changed perception is an evolution of human consciousness. Knowing this means we have the power to image and create the futures that we choose. Therefore, we hope to see in the next future this change of paradigm adopted not only in one area but embraced by the whole market. We are more than aware that the journey is treacherous, but we will never change things by fighting the existing reality. To change something, we should build a new model that makes the existing model obsolete. Hopefully, we will not be alone facing this challenge.