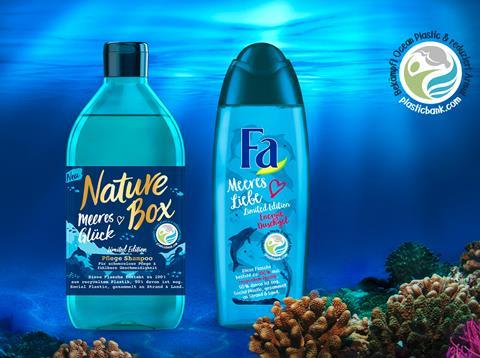 The countdown is on for the live Sustainability Awards 2019 ceremony, where we will unveil the worthy winners of the most prestigious sustainability competition for packaging innovation.
In anticipation, we explore the 25 standout solutions that made it to the finals, handpicked by our independent, expert judging panel. Today we hear from Philippe Blank, Head of Sustainability, International Packaging Development, Henkel Beauty Care, about its new shampoo and shower gel bottles made from 'social plastics'.
Congratulations on being selected as a Sustainability Awards 2019 finalist! Could you please introduce your successful initiative?
Our Social Plastic Lighthouse Editions of 'Meeresliebe' shower gel and 'Meeresglück' Shampoo have been fully produced out of recycled plastic, of which 50% is so called 'social plastic' that comes from our collaboration with the Plastic Bank.
'Social plastic' is collected on beaches, waterways and land in geographical regions of the highest poverty, where no recycling infrastructure exists. By collecting plastic waste from the environment, registered collectors are generating reliable and fully transparent incentives, that can be exchanged for everyday items to make a living.
All of that that is backed up by IBM blockchain technology to enable full traceability along the collection chain. As we are trying to keep as much value as possible in the collection country, the material is additionally sorted, flaked and washed in the specific region, followed by further processes and conversion steps along our supply chain to finally bring it back into premium primary packaging applications that really make a difference and generating direct impact when purchasing it.
It's about monetising plastic waste and offering a premium price for participants to further stimulate collection rates. A scalable solution on a global level that tackles the issue at its core.
What are the environmental challenges in packaging that your entry addresses, and how well is the market responding to them so far?
More than 80% of the estimated amount of > 8M tonnes of plastic that is entering the oceans every year is coming from countries that are lacking waste collection and recycling infrastructure. Our cooperation builds on two pillars. First, we are funding additional collection centres to increase the footprint of this ecosystem and additionally invest into local education programmes to create awareness about the mismanagement of waste. As an example, we have teamed up with 50 primary schools in Haiti to educate the next generation about planetary stewardship and the value of plastic as a resource. These schools are operating as collection centres, where the kids can bring their household waste that pays back their tuition fees at the same time.
Secondly, we will further leverage Social Plastic in our FMCG products to make this a standard material in our portfolio. Here we are pioneering the supply chain together with Plastic Bank in order to optimise the material flows from the different regions, improve forecasting and final processing into pellets than can be used by our converters. Social plastic is probably one of the most powerful and impactful plastic resins that can be used for today's packaging applications as it is so much more than just recycled and ocean-bound material. The market response that we see is extremely positive and encourages us to further leverage social plastic within our portfolio.
'Sustainable packaging' is a contentious concept, which means different things to different people, and anyone working in packaging understands that it's easy to make things worse according to one environmental metric while making improvements according to another. In your opinion should there be a hierarchy among our sustainability goals?
I think from a brand owner perspective you have to balance out two different dimensions, when it comes to sustainable packaging design. On the one hand, you are heading for the least possible material consumption to reduce the overall packaging CO2 footprint as much as possible.
Reducing greenhouse gas emissions wherever you can will be a key factor to diminish the long-term effects that are causing the climate crisis we are facing. On the other side you need to tackle the design of the product itself to make it as simple as possible, keeping the value of the material within a circular economy. Enabling full recyclability and incorporating high amounts of recycled content are today's buzzwords that are driving both, stakeholder commitments and legislation.
Both dimensions are crucial to achieve and are complementing each other but might also trigger some contradiction. When you think about plastic as a packaging material of choice, you might find yourself in a situation where you need to decide whether to go with a non-recyclable lightweight flexible solution that comes with the lowest possible CO2-footprint or to use a more heavy, rigid type of pack that is perfectly recyclable and stays in the loop in the light of a circular economy. Unfortunately there are no simple answers and you have to look at it case by case. In an ideal world, you would contribute on both ends.
That depends on other packaging requirements that needs to be fulfilled. In addition, it's also linked to your personal targets and focal areas that you have set for yourself from a strategic perspective.
Clearly, sustainability in packaging needs to be achieved by many stakeholders acting together, not by someone with a silver bullet. Thinking about the wider picture, what areas of innovation or action would you like to see across the value chain in the coming years to meet the demands of nature and society?
Cross-industry collaboration is key to success and we need to break down the walls even across competitors and peers. Brand owners are playing a crucial role in this ecosystem by having touchpoints with most of the stakeholders along the entire value chain. In the end, we are designing and specifying the packaging, which could trigger demands in a certain direction. It is of utmost importance to generate the critical mass that is needed to reach economy of scale for more sustainable industry standards and to foster innovation along the supply chain.
Henkel engages in a lot of initiatives that are centred around sustainable packaging such as CEFLEX, EMF's 'New Plastic Economy' or the Alliance to end Plastic Waste. One area I think should be tackled in the future is a harmonised and transparent consumer education regarding sustainable packaging solution.
Consumers need to get educated more wisely about the different packaging options to bring back trust and confidence in packaged goods – especially with regards to plastic solutions. There's a lot of misperception and confusion in today's discussions around what is really sustainable and we should proactively team up across the industry to achieve a harmonised and authentic education scheme, that is at the same time reflecting the regional differences regarding kerbside collection and recycling technologies.
Apart from that, I'm very optimistic to see further progress in the field of chemical recycling as a complementary technology to today's mechanical recycling infrastructure. This will significantly help to utilise valuable waste that cannot be processed today, in order to increase the overall yield and quality level within a circular economy approach. Chemical recycling technologies, both large and small scale solutions, will finally provide recycled resins at scale, that will fulfil the needs of e.g. the food industry in terms of product safety and compliance.