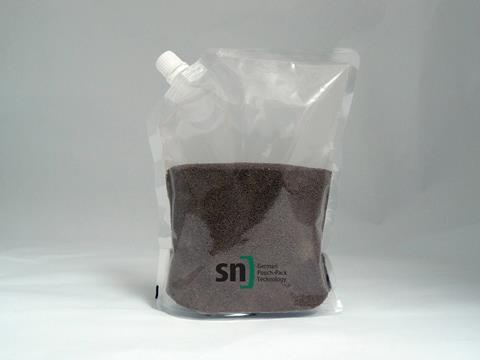 The live Sustainability Awards 2019 ceremony takes place today, where we will unveil the worthy winners of the most prestigious sustainability competition for packaging innovation.
In anticipation, we explore the 25 standout solutions that made it to the finals, handpicked by our independent, expert judging panel. Our final interview before the big reveal is with SN Maschinenbau, Germany, who tell us about their combined technology to run fully recyclable packaging material without speed limitations - nominated in the 'Machinery' category.
The winners in each category and overall 2019 Sustainability Awards winner will be announced at FachPack today! Join us from 16:30 at FachPack's PackBox Forum for sustainability discussion, networking, drinks and the big reveal.
Congratulations on being selected as a Sustainability Awards 2019 finalist! Could you please introduce your successful initiative?
We were very happy to hear that we are shortlisted for the Sustainability Award. These days discussions evolve mostly around sustainable packaging material itself but the necessity of machines to handle these materials is not really being discussed yet. SN as a machine manufacturer has been very active with experimenting and testing new materials in close cooperation with granulate and film producers to run fully recyclable packaging materials on existing and future SN machines. Together with our partners, we are now able to offer a solution which allows the machine to run at full production speed with recyclable material for plenty of applications.
What are the environmental challenges in packaging that your entry addresses, and how well is the market responding to them so far?
From our point of view it is not that much the direct impact we address – but rather the fact that if the industry develops the most sustainable packaging without possibilities to run it on packaging machines it will find no acceptance. Currently only a handful of our customers try to implement fully recyclable materials in their current production. I have the feeling they are hoping that the regulations will allow continual use of today's standard laminates. Our challenge is to convince the industry that everybody is responsible for the environment and only if we all contribute can we achieve the goal of a 'circular economy'.
'Sustainable packaging' is a contentious concept, which means different things to different people, and anyone working in packaging understands that it's easy to make things worse according to one environmental metric while making improvements according to another. In your opinion should there be a hierarchy among our sustainability goals?
In my opinion, the overall goal needs to be a fully circular economy! This concept is the most sustainable and should truly be the utmost goal for the packaging industry.
Clearly, sustainability in packaging needs to be achieved by many stakeholders acting together, not by someone with a silver bullet. Thinking about the wider picture, what areas of innovation or action would you like to see across the value chain in the coming years to meet the demands of nature and society?
Clearly the film manufacturers will have to remain (or become) very innovative to meet both: the requirements from the packaging industry as well as from the sustainability point of view. On the other hand, recycling organisations must take over responsibility, as the waste collection and separation needs to become much better. The industry depends on single and correctly sorted materials for re-usage to make a circular economy work.