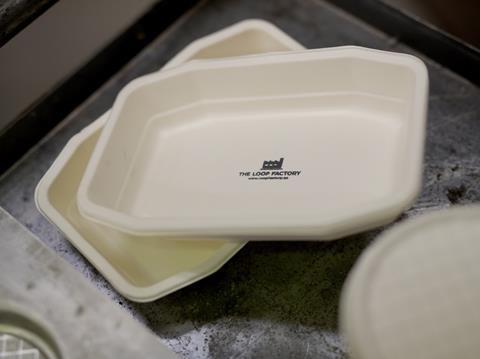 Less than a week to go until the live Sustainability Awards 2019 ceremony at FachPack! Join us to discover the worthy winners of the most prestigious sustainability competition for packaging innovation.
In anticipation of the event, we explore the 25 standout solutions that made it to the finals, handpicked by our independent, expert judging panel. Anna Altner, CEO of The Loop Factory discusses their entry, Nowa Packaging, which is a finalist in the 'Machinery' category.
Congratulations on being selected as a Sustainability Awards 2019 finalist! Could you please introduce your successful initiative / innovation?
Nowa Packaging is a new machine and material technology, developed by The Loop Factory, that in an efficient way can produce cellulose based packaging. By using the technology, it is possible to go from raw material, preferable cellulose pulp, to produced 3D packaging products in one unit. The technology does not use water and is therefore very efficient in terms of energy, low cycle times and appealing investment costs.
Nowa Packaging can be applied in different market segments, such as HORECA, consumer goods, dairy, confectionary, meat and fish, ready meals and cosmetics.
We are now offering partners joint projects to implement the technology and adapt it to their needs and product portfolio.
What are the environmental challenges in packaging that your entry addresses, and how well is the market responding to them so far?
The aim is of course to contribute with increased sustainability in the packaging industry, with the possibility to significantly reduce the amount of plastics and to implement more sustainable production processes. There is a big demand for sustainable packaging and replacing plastics, so the response has been overwhelming.
'Sustainable packaging' is a contentious concept, which means different things to different people, and anyone working in packaging understands that it's easy to make things worse according to one environmental metric while making improvements according to another. In your opinion should there be a hierarchy among our sustainability goals?
Yes, definitely. There is also a demand, mainly from brand owners on solutions that are not available today and will take many years when (and if) they will reach the market. So, there is a big gap between requirements and possible solutions.
We also see many statements that are misleading and that confuse consumers and customers, for example statements of 100% bio-based, when the solution does not offer this, and the difference between biodegradable, compostable and bio-based. We think it is very important to communicate in generations – what is possible today, how have we achieved it and what is the next step. The communication must be transparent.
Clearly, sustainability in packaging needs to be achieved by many stakeholders acting together, not by someone with a silver bullet. Thinking about the wider picture, what areas of innovation or action would you like to see across the value chain in the coming years to meet the demands of nature and society?
For us, offering a new technology, this question is very relevant. Sharing risk and working with transparency in the value chain is crucial when implementing new sustainable solutions. Now there is very low acceptance on taking risks. Everyone wants new sustainable solutions but do not want to spend money on the development.
We would like to see more collaboration where material suppliers, technology providers, packaging producers (converters) and brand-owners are working jointly. Business models and project set ups must be adapted to make this happen and so also the view of sharing risk. Innovation involves risk taking, by definition. How do we innovate if we are not ready to take risk?
The winners in each category and overall 2019 Sustainability Awards winner will be announced at FachPack, Nuremberg, Germany on 25th September. Join us from 16:30 at FachPack's PackBox Forum for sustainability discussion, networking, drinks and the big reveal.