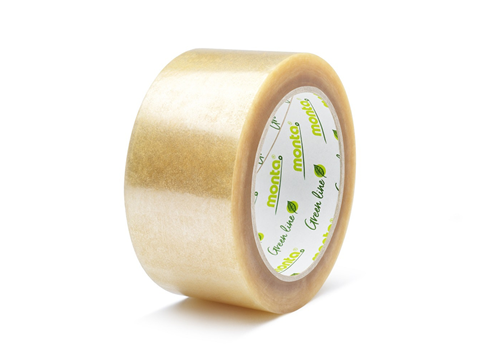 Monta's biopack product, a biodegradable self-adhesive tape made from 90% natural resources, was recently announced as a finalist in our 2020 Sustainability Awards. We spoke with the company to learn more about the product, which it believes has the potential to change the industry as we know it.
---
Congratulations on being selected by the international judging panel as a Sustainability Awards 2020 finalist! Could you please introduce your successful entry and what's innovative about it?
Most self-adhesive packaging tapes mainly consist of a plastic backing and are often coated with an acrylic and hotmelt adhesive, with components being of petrochemical origin.
Our innovation, monta biopack®, is manufactured in Germany and is made of around 90% natural resources. Using a biobased PLA film and a unique natural rubber adhesive, this eco-friendly tape is biodegradable under industrial composting conditions, while meeting all technical requirements of a strong and reliable packaging tape.
Tested and certified by TÜV Austria with their OK COMPOST INDUSTRIAL label, monta biopack® is the first certified sustainable self-adhesive tape made in Germany.
What are the environmental challenges in packaging that your entry addresses, and what impact do you hope it will make?
Over the past 50 years, self-adhesive packaging tape has proven very popular for sealing cardboard boxes and has ultimately become a commodity product. The driving factors behind its popularity were its reliability, ease of application, and low cost, the latter often leading to wasteful use.
monta biopack® is not only made from mainly renewable resources, this tape also reduces material usage. Thanks to its unique natural rubber adhesive, one single layer of tape ensures a reliable carton closure, whereas, with many other adhesive technologies, several layers of tape may be required.
We hope that many more companies will switch to this eco-friendly alternative and reduce the need for petrochemical-based adhesive tapes. With the global market for the commodity product "packaging tape" equating to 30 billion sqm per annum, just a 1% substitution replaces 300 million sqm conventional with sustainable tape – a great benefit for our environment.
I'd like to ask you about the broader picture beyond your successful entry. 'Sustainability' in packaging is multi-dimensional – both in terms of objectives and challenges. Could you comment on the most important roadblocks you identify from your position in the value chain, and the kinds of solutions you would like to see addressing them (e.g. areas of technological innovation, collaboration, regulation)?
The costs for many renewable materials at this stage are still higher than their conventional counterparts, which may slow the acceptance of the more eco-friendly solutions. However, with e-commerce and convenience products on the rise, we can see that more companies are changing their mindset and are looking for sustainable packaging solutions, which in the long run will bring down costs and lower this obstacle.
Another hurdle we see is the inconsistent availability of composting facilities. It causes some companies, that are looking for sustainable options, to stay away from compostable packaging solutions, despite their eco-friendly raw materials.
Building the required infrastructure with similar composting concepts across Europe or even worldwide would close the recycling loop for biobased materials, leading to greater acceptance of compostable packaging solutions and increasing their demand.
Although adhesive tape plays a relatively small part in the whole packaging concept, changing to a greener product is an easy and very quick step towards a more sustainable packaging solution. Just keep the 30 billion sqm tape per year in mind!