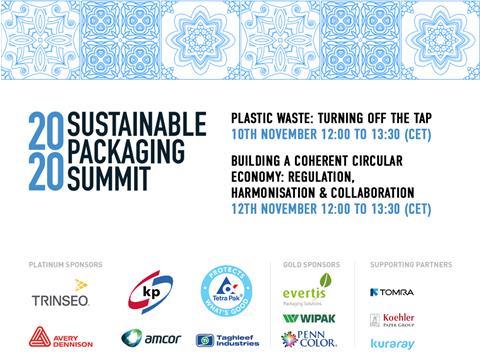 Two Sustainable Packaging Summit sessions are taking place this week, where leading names from across the value chain will be taking a deep dive into key questions surrounding plastic waste and the circular economy.
To watch all of the events live, simply click here to register for free (or log in if you are already registered).
To put this week's events in your calendar, click here.
---
Can we break the plastic wave? 10th November from 12:00 to 13:30 CET
Join us on the 10th of November (tomorrow) from 12:00 to 13:30 (CET) for our latest Sustainable Packaging Summit session – this time on the issue of plastic waste
According to the recent report 'Breaking the Plastic Wave', the flow of plastic waste into our oceans is set to triple by 2040, at which point there will be an estimated 600 million tons of marine plastic. However, the report also sets out a pathway to cut pollution by 80% - providing that stakeholders embrace system-wide changes.
In this session, we will be focusing on the problems, prescriptions, and the progress being made. Julia Koskella of SYSTEMIQ, which carried out research underpinning 'Breaking the Plastic Wave', will discuss the scale of the threat we face and the profound changes we must adopt. Meanwhile, Gerald Naber of the Ellen MacArthur Foundation (itself a thought partner in the report) shares insights from the hot-off-the-press second annual update on the New Plastics Economy Global Commitment.
Speakers:
Gerald Naber (Programme manager of the New Plastics Economy Global Commitment, Ellen MacArthur Foundation)
Julia Koskella (Associate, SYSTEMIQ)
Building a coherent circular economy: regulation, harmonisation & collaboration. 12th November 12:00 to 13:30 (CET)
The task of building a viable circular economy in plastics requires strategic adjustments across the value chain, but also a coherent regulatory framework that reflects the needs and nuances of industry. In this panel discussion we're assembling industry voices and Brussels insiders to explore the recent European policy agenda shifts and upcoming legislation – not least the forthcoming review of the Packaging & Packaging Waste Directive, in line with the policy objectives of the European Green Deal and the new Circular Economy Action Plan.
Join us to discuss regulatory challenges, the learnings from cross-industry collaboration, and the traditional thinking that needs to be challenged as we navigate past the barriers to a circular economy.
Speakers:
Hans van Bochove (VP Public Affairs & Government Relations Coca-Cola European Partners)
Francesca Stevens (Managing Director, EUROPEN)
Fatma Sahin (European External Affairs Manager, Unilever)
Dominic Hogg (Chairman, Eunomia)
Guido Aufdemkamp (Executive Director, Flexible Packaging Europe)
Graham Houlder (Project Coordinator & MD, CEFLEX)
Christian Crepet (Executive Director, Petcore Europe)
Walter van het Hof (Trinseo)
Moderator: Venetia Spencer (Secretary General, PCEP)