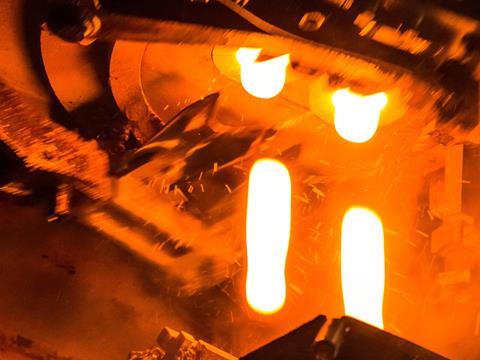 20 glass container producers have partnered to produce the world's first large-scale hybrid oxy-fuel furnace to run on 80% renewable electricity.
By replacing 80% of the currently used natural gas with green electricity, the technology is projected to reduce furnace emissions by 60% or 50% of the total CO2 emissions of a container glass factory.
The industry already works with electric furnaces in several of its 150 glass manufacturing plants across Europe, but they are small scale and exclusively used to produce flint (colourless) glass with virgin raw materials, therefore using very little or no recycled glass content. With this new technology, the industry says that it will be able to produce more than 300 tonnes per day of any glass colour, using high levels of recycled glass.
Ardagh Group – the second-largest glass packaging manufacturer in the world – has volunteered to build the furnace in Germany. It will be built in 2022, with an assessment of the first results planned for 2023.
"With this new technology we are embarking on the journey to climate-neutral glass packaging, and ensuring the long-term sustainability of manufacturing," states Martin Petersson, CEO of Ardagh Group, Glass Europe. "We aim to demonstrate the viability of electric melting on a commercial scale, which would revolutionise the consumer glass packaging market".
"We are extremely proud to announce this joint-industry project," comments Michel Giannuzzi, President of FEVE. "The hybrid technology is a step-change in the way we produce and will enable us to significantly reduce the carbon footprint of glass packaging production. The move marks an important milestone for the glass sector in implementing our decarbonisation strategy."
The industry predicts that developing the "Furnace of the Future" will require significant financial and human resources and a wide range of expertise. For this reason, members of the value chain have committed to work together. By adopting a sectoral approach, the consortium also intends to gain the support of the European Commission through the ETS Finance for Innovation Fund Programme.