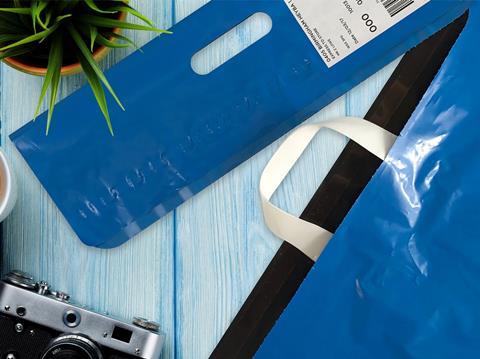 This week, Euro Group introduced the launch of its brand-new, multi-use mailing bag concept, Retain/ Return.
As a growing number of consumers embrace online shopping, and two in three Britons admit that they worry about packaging, listening to consumers and recognising shifting behaviour is critical for brands to achieve ecommerce success in a highly competitive market.
Where millions of mailing bags are torn open, and discarded in landfill sites every year, Retain/ Return's unique features allow consumers to utilize what is traditionally a single-use plastic product.
Retain/ Return has an easy-open feature meaning the bag is less likely to be damaged when opened. Integrated loop handles within the bag then transform it from otherwise discarded packaging, into a durable, reusable shopping bag that is free for the customer, enhances the brands' presence and has a lower environmental impact.
A secondary tear-off strip is also available, allowing the customer to easily return their item to the supplier.
Product Development Director, Zak Lowe, said "Online sales are increasing year on year and with the spotlight firmly on single-use packaging, it's crucial for ecommerce businesses to invest in innovative packaging that is attractive, environmentally friendly and beneficial to the consumer.
The way a product is packaged can have a huge impact on a consumer's experience with the brand, so we're excited to introduce a sustainable solution that will help both the brand and consumer achieve their environmental commitments".
More info: