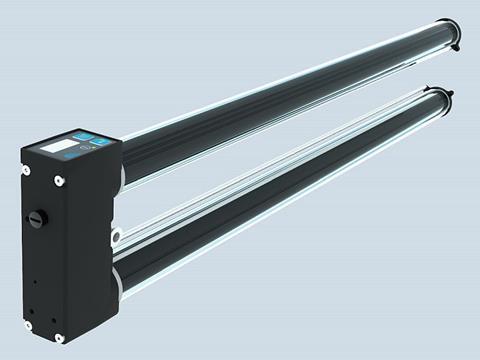 At ICE Europe, which will take place from 12 to 14 March in Munich, Erhardt+Leimer will present new and proven products from the sector of measuring and automation technology for the converting industry.
The new digital infrared wide band sensor FR 61 is particularly suitable for the precise acquisition of the position of homogenous, opaque materials. Even transparent materials (transparency of up to 70 %), e.g. cloudy plastic films can be detected.The particular advantage of the sensor is its large measuring range: 3 variants with measuring ranges of 160 mm, 320 mm and even 480 mm are available. The web can be acquired and guided in the entire sensor field of view. Format and width changes during production can be undertaken reproducibly, quickly and cost-effectively because the manual adjustment of the sensors required in the past is no longer necessary. It is also possible to evaluate up to 4 edges simultaneously.
The actual edge position and diagnostic information are displayed on the sensor's integrated display. The Ethernet interface on the device and an integrated web server make possible servicing and access to status values, warnings and alarms as well as the complete configuration using a standard web browser.
The wide band sensor operates with the transmitted light principle. Due to the overlapping arrangement of individual infrared light paths, there is a correspondingly large measuring range with a high resolution of 0.01 mm and high linearity.
An integrated exposure controller largely compensates for effects such as external light and soiling. Optionally, the sensor is available with an air purge system.
With the proven FE 52, E+L will also present a color line sensor with a trigger mode such that web guiding based on a single criterion directly in the printed image is possible. This individual criterion can be a color line or a contrast feature, for example an individual letter. As such, technical orientation lines used only for web guiding and cut off after the printing process are no longer required.
Along with the sensors, Erhardt+Leimer will present at ICE its systems for web guiding, web tension control and the measurement of the weight per unit area and the thickness of coatings.
The E+L stand is in hall A5, stand 1110.